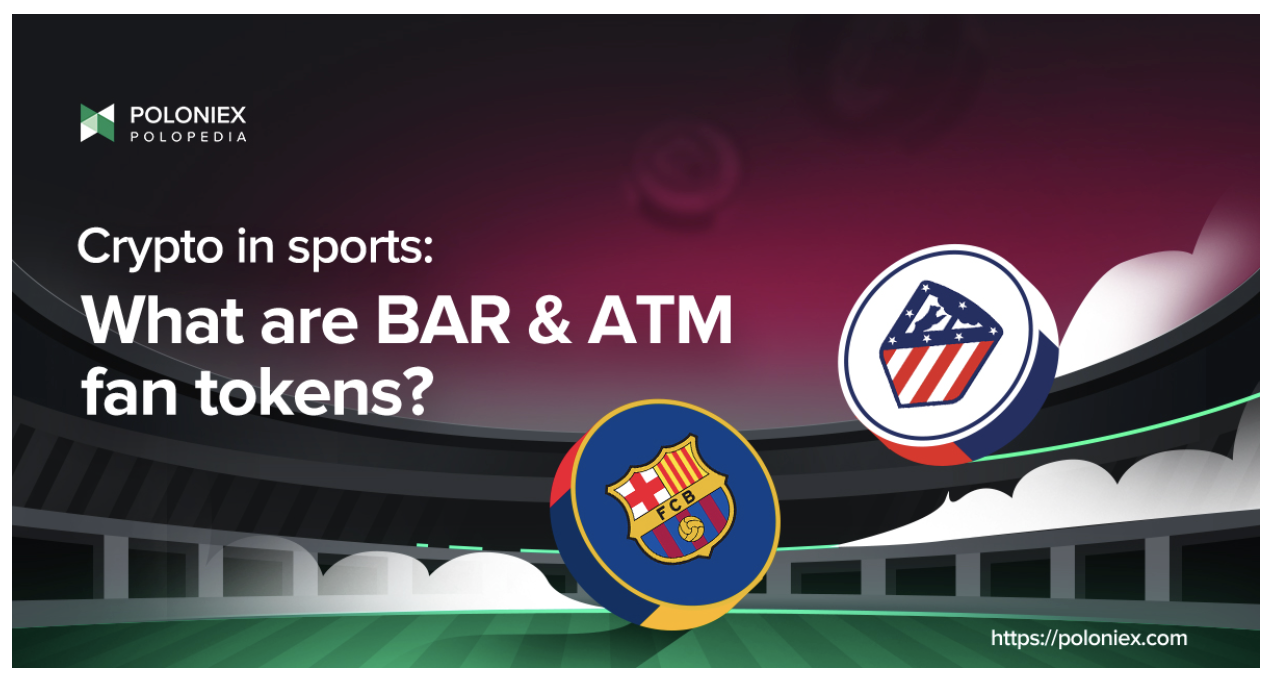 As the top flight of Spanish football, F.C. Barcelona is so popular that the flash sale of its fan token, BAR, exceeded the initial supply of 600,000 tokens by 5x to generate $1.3M in less than 2 hours in 2020. With the overwhelming responses, Barcelona launched another batch of fan tokens two days later. Due to the popularity and scarcity of BAR, Poloniex gets this token listed to allow fans to support their favorite team. Apart from Barcelona, Atlético de Madrid is another LaLiga team to have its fan token, ATM, listed on our platforms. Therefore, the third "Crypto in Sports" article is going to introduce BAR and ATM, the two aforementioned tokens.
What are they?
BAR Fan Token: BAR is the official fan token of Barcelona and its flash sale was oversubscribed that $777K in BAR (€2 each) were sold out on Chiliz.net, the world's first tokenized sports exchange, iIn less than two minutes across 106 countries in 2020. With $6M+ being deposited across Chiliz.net and Socios.com prior to and during the flash sale, the club decided to relaunch the sale of BAR after two days, but this time, the price was determined by supply and demand. BAR is a digital asset which allows fans to vote in club-specific polls, including choosing an artwork and a song playlist to go inside the legendary home at the Camp Nou as well as having a chance to select the design of the captain's armband. What's more? BAR also allows holders to win digital and real-life rewards, such as appearing via video link on the LED boards at the stadium during a match, watching games as a VIP guest in club hospitality, meeting players and even playing a match with other holders at the club's home stadium, all of which can be earned on Socios.com so that holders can increase their fan status over time.
ATM Fan Token: The ATM fan token allows holders to help Atlético de Madrid make the right decisions, access VIP experiences, earn official products, and more. Since its launch in 2020, the club has interacted with fans through its official token, ATM, which is powered by Chiliz on the platform, Socios.com. In the past, token holders got a chance to make decisions for their favorite clubs collectively, including choosing the matchday graphics and inspirational messages at Wanda Metropolitano, the home stadium. Also, fans used the tokens to vote for their favorite bus design, mask design as well as the design of social media header.
How do they perform?
BAR Fan Token: As the one and only fan token of Barcelona, BAR gives a sense of privilege to holders to vote in polls and participate in club-related quizzes and contests through Socios.com so that they can all make decisions to influence their favorite club. As for the background of the club, Barcelona was founded in 1899 and it is one of the most valuable sports teams in the world. The club has a good track record of winning titles. For the domestic games, the club has won a record 75 trophies, including 26 La Liga, 31 Copa del Rey, 13 Supercopa de España, three Copa Eva Duarte, two Copa de la Liga titles, as well as being the record holder for the latter four competitions. As for the international matches, the club has won 22 European and worldwide titles: five UEFA Champions League titles, a record four UEFA Cup Winners' Cups, a joint record five UEFA Super Cups, a record three Inter-Cities Fairs Cups, a joint record two Latin Cups and three FIFA Club World Cups. Therefore, BAR, its official fan token, is as famous as the club. The price of BAR stands at $4.28 by press time, which includes $40 Million (40,000,000 BAR) total supply according to DigitalCoinPrice.
ATM Fan Token: ATM is the official token of Atlético de Madrid, which was founded in 1903, with a total supply of $10 Million (10,000,000 ATM), according to DigitalCoin Price. The token is priced at $3.29 by the press time. Because Atlético de Madrid, simply Atleti, is one of the most popular Spanish F.C.s with a good track record of snatching 11 La Liga titles, 10 Copa del Rey titles, two Supercopas de España, one Copa Presidente FEF, one Copa Eva Duarte and more.

How can we purchase fan tokens?
No matter which football team you support, you can purchase BAR and ATM tokens on the Socios platform to get involved in different club's governance. Or else, you can also purchase the aforesaid tokens at credible crypto exchanges, including Poloniex, where you can trade them on the spot market with crypto currencies including USDD and USDT.
Attention, please!
Sharing is a blessing! That's why Poloniex is joining hands with Chiliz to launch the "Learn & Earn" campaigns to allow users to share up to $80,000 worth of the fan tokens in the football season, and ahead of the World Cup 2022. Sounds fun? Please click here to answer the quizzes to share the prize pools of $80,000 now!