Dear Poloniex Users,
To better serve our users, Poloniex is launching an optimized fee structure for futures traders! The new fee structure brings regular users the lowest fees for trading USDT-margined perpetual contracts among all exchanges, with narrowed gaps between different VIP levels and reduced thresholds for reaching specific levels. We aim to build a fairer trading environment where both retail and institutional users can trade futures with the most favorable fees!
From today, the fee rates for regular users trading USDT-margined perpetual contracts on Poloniex will be set to the lowest available among all crypto exchanges:
Maker:

0.01%

Taker:

0.04%
A new fee structure for futures traders will be effective on November 24, 2022. To give back to our users, Poloniex is launching a VIP Challenge for a limited time, with the VIP thresholds lowered by up to 50%! Details are as follows:
Campaign period: 13 days, November 11, 2022 at 13:00 – November 24, 2022 at 12:59 (UTC)
During the campaign, the thresholds of different futures trader levels in the fee structure will be halved. From the start of the campaign, the platform will update users' total futures trading volume in the last 30 days on a daily basis in the "Fees" section. Corresponding VIP fee rates will be granted after the platform calculates and confirms users' final trading volume when the campaign ends.
Special Rewards for Early Birds:
The first 500 users who have signed up for this campaign and traded any amount in futures contracts are eligible for a 5 USDT trial fund; an extra 20 USDT trial fund will be rewarded to users who have reached ≥3,000 USDT in futures trading volumes.
Note: All users (regardless of whether they have taken part in the VIP Challenge) are eligible for the campaign.
Unlock Your Next VIP Level:
Already a VIP on other exchanges? If so, you can get upgraded to the NEXT level on Poloniex to enjoy more benefits. Just provide screenshots of your futures trading volume or your current VIP level on other exchanges (90 days)! >>> Apply Now
Fee structure for the VIP Challenge is as follows: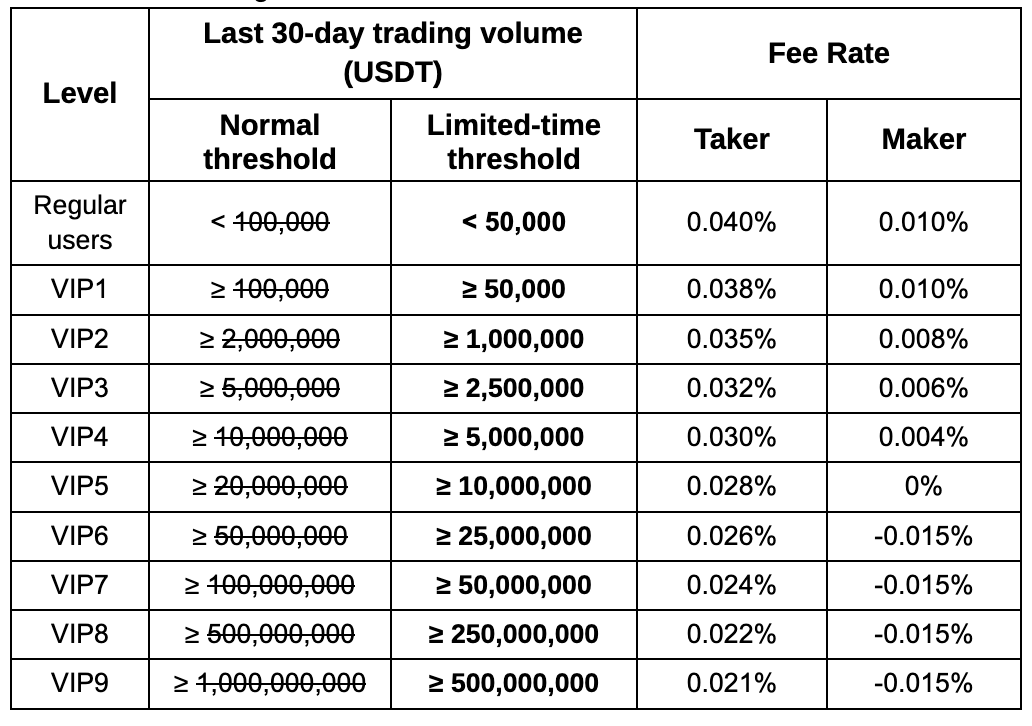 Notes:
Poloniex will launch a new fee structure for futures trading on

November 24, 2022

;

All users are eligible to participate in the VIP Challenge, but Special Rewards are only available to those who meet the requirements for Early Birds;

The trader levels obtained from the VIP Challenge will be valid for 90 days. If the user upgrades to a higher level after the new fee structure comes out, then the higher level shall apply;

Eligibility: This campaign is not open to market makers;

Rewards distribution: The futures trial funds will be distributed to your futures account within 10 working days after the campaign ends. They will be valid for 90 days from the date of distribution and recycled upon expiration.

The trial fund itself cannot be transferred or withdrawn, but you may withdraw any earnings.

In futures trading, the trial fund can be used as a trading margin or to offset account losses, pay trading fees and funding costs. Please refer to the

Poloniex Futures Trial Fund Rules

for details.

We are unable to distribute rewards or airdrops to customer accounts that are frozen, closed, or based in a prohibited country/region. Prohibited countries/regions are as follows: Ontario (Canada), Crimea, Democratic Republic of Congo, Iran, Iraq, Libya, Mali, North Korea, Palestine, Syrian Arab Republic, Somalia, Sudan, Zimbabwe, Afghanistan, Côte d'Ivoire, Yemen, Lebanon, Myanmar, the Chinese Mainland, Cuba, Burundi, Morocco, United States of America and all U.S. territories, and any country or region subject to an embargo or other similar sanctions imposed by the U.S., the U.K., or the European Union (the "Restricted Territory").

The rules of the campaign shall be subject to Poloniex's interpretations and decisions, which shall be final.

We reserve the right to disqualify any person who is known or suspected to be cheating or violating any rules and regulations set by Poloniex.
Risk warning: Futures contract is an innovative financial product that involves high risk and requires extensive knowledge. Please take caution when making trading decisions. Thank you for supporting Poloniex!
Poloniex Team
November 11, 2022
Click to download Poloniex App
Find us on
Twitter: https://twitter.com/Poloniex
Telegram: https://t.me/PoloniexEnglish
Instagram: https://www.instagram.com/poloniexofficial/
Medium: https://medium.com/@Poloniex
Customer Support Twitter: https://twitter.com/PoloSupport
Announcement Telegram: https://t.me/PoloniexAnnouncements