Dear Poloniex Users,
To celebrate the upcoming Christmas and the listing of Volt Inu (VOLT) on Poloniex, Poloniex will join hands with the Volt Inu(VOLT) team to launch the "VoltInu Christmas Offering: Complete Tasks for a Share of 41,000,000,000 VOLT" campaign. Details are as follows:

Campaign period: 7 days, December 12, 2022 at 11:00–December 19, 2022 at 10:59 (UTC)
Promotion 1: Invite Friends and Share 1,000,000,000 VOLT
New users who sign up via the referral link of the promotion or that of existing users, complete Level 2 verification, and trade at least 100 USDT in the spot market can evenly share a prize pool of 1,000,000,000 VOLT with their inviters, if any.
Exclusive referral link of the promotion>
Invite your friends to share rewards>
Promotion 2: Trade VOLT and Split 40,000,000,000 VOLT
During the promotion, all VOLT traders whose cumulative spot trading volume meets the minimum requirement are eligible to share a prize pool of 40,000,000,000 VOLT based on their trading volume rankings. Details are as follows: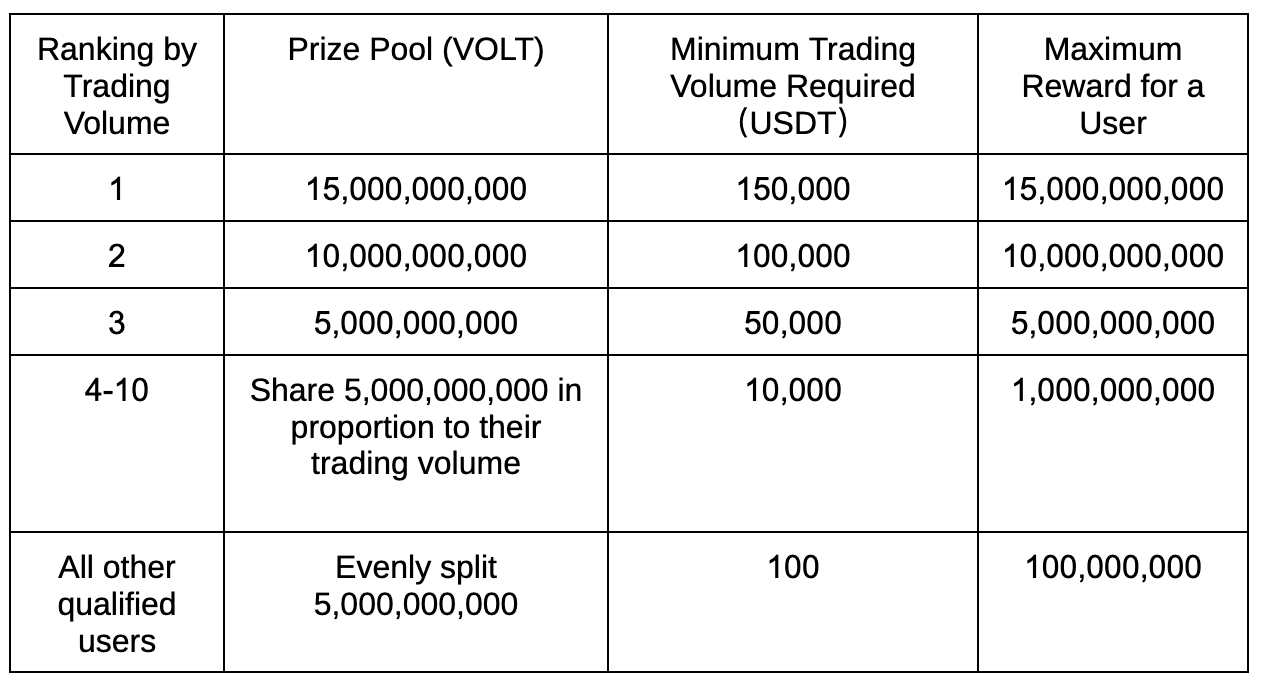 Rules and terms:

The valid trading pair of this campaign is VOLT/USDT.

The rewards airdropped in this campaign are in VOLT.

The cumulative trading volume and rewards of this campaign are calculated in the following way:

Cumulative trading volume = Executed buys + Executed sells

Reward for a user ranked 4th–10th = The corresponding prize pool * Cumulative trading volume of the user / Total trading volume of all users qualified for this pool

This campaign is not open to market makers or VIP users.

Reward distribution: All rewards will be distributed within 20 working days after the campaign ends. You can log in to your account and view the rewards in Activity > Wallet.

Users deemed to have used multiple accounts in an attempt to win multiple prizes will be disqualified from this campaign.

We are unable to distribute rewards or airdrops to customer accounts that are frozen, closed, or based in a prohibited country. The list of prohibited countries/regions is as follows: Ontario (Canada), Crimea, Democratic Republic of Congo, Iran, Iraq, Libya, Mali, North Korea, Palestine, Syrian Arab Republic, Somalia, Sudan, Zimbabwe, Afghanistan, Cote d'Ivoire, Yemen, Lebanon, Myanmar, the Chinese Mainland, Cuba, the United States of America and all U.S. territories.

The rules of the campaign shall be subject to Poloniex's interpretations and decisions, which shall be final. We reserve the right to disqualify any person who is known or suspected to be cheating or violating any rules and regulations set by Poloniex.
Poloniex Team
December 9, 2022
Click to download Poloniex App
Find us on
Twitter: https://twitter.com/Poloniex
Telegram: https://t.me/PoloniexEnglish
Instagram: https://www.instagram.com/poloniexofficial/
Medium: https://medium.com/@Poloniex
Customer Support Twitter: https://twitter.com/PoloSupport
Announcement Telegram: https://t.me/PoloniexAnnouncements
Risk Warning
Cryptocurrency investment is subject to high market risk. Please make your investments cautiously. You are solely responsible for your investment decisions and Poloniex is not liable for any losses you may incur. Past performance is not a reliable predictor of future performance. You should only invest in products you are familiar with and where you understand the risks. We are committed to providing users with a service that is safer, more efficient, and more reliable for the trading of digital assets.