Dear Poloniex users,
Christmas is just around the corner! Poloniex has prepared amazing Christmas gifts for all users. To check out your gift, click this link to sign up for the campaign.
Campaign Period: December 15, 2022 at 00:00–December 25, 2022 at 23:59 (UTC)
Promotion 1: Santa's Gift—Invite Friends for Registration and Share 3,000 USDT
Your invitee who signs up for Poloniex and completes either of the tasks below will earn you 10 USDT as a reward:
Task 1: Complete KYC verification and trade 1,000 USDT or more
Task 2: Trade 5,000 USDT or more; no requirement for KYC verification
The prize pool of promotion 1 totals 3,000 USDT, which will be given out on a first-come-first-serve basis. Each user can win up to 300 USDT.
Promotion 2: Rudolph's Surprise–Invite Friends for Trading and Share 2,000 USDT
You will win rewards if all of your invitees complete the trading volume tasks as specified below: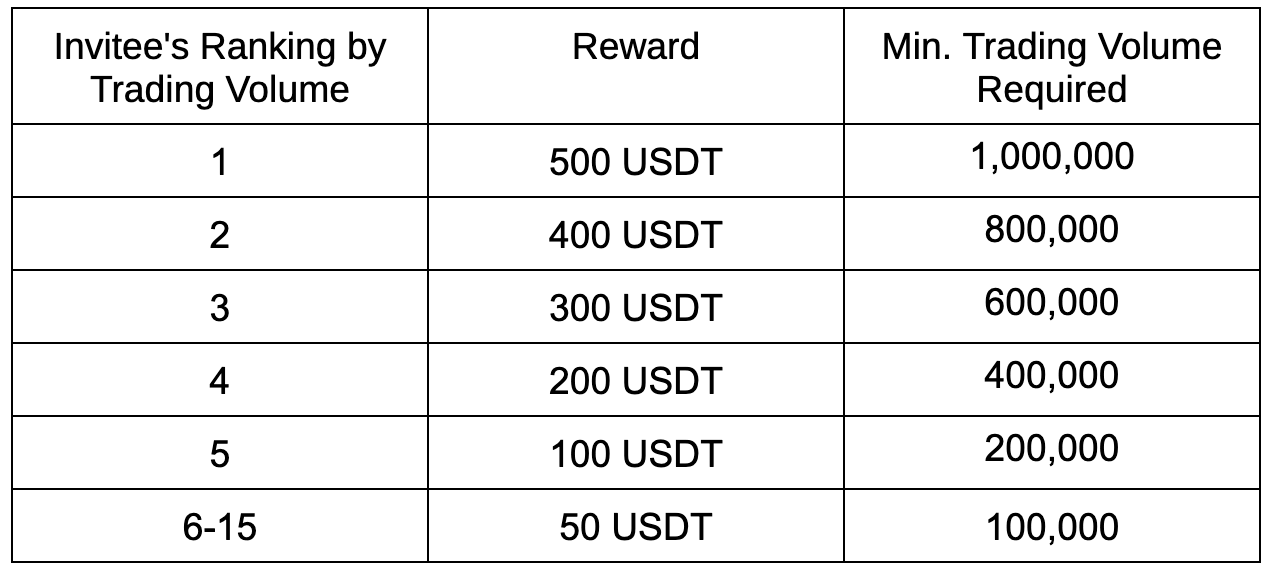 Q&A
Q: How do I know that I have registered successfully for this campaign?
A: After you fill in your email address in the registration form and submit the form, the registration is successful. Only inviters need to sign up.
Q: How can the invitee's trading volume be checked?
A: The invitee may click the following link to view their trading volume: https://poloniex.com/activity/trades
Rules and Terms:
Trading volume in currency pairs with zero fees will not count toward the invitee's total trading volume in this campaign.

All rewards will be distributed to your account within 20 working days after the campaign ends.

If you are interested in a higher commission, join

Poloniex Space Travellers Program

to win a commission of up to 60%.

We are unable to distribute rewards or airdrops to customer accounts that are frozen, closed, or based in a prohibited country. Users in the following countries/regions will not be eligible for this promotion: American Samoa, Cuba, Guam, the Islamic Republic of Iran, the Chinese mainland, the Democratic People's Republic of Korea, the Northern Mariana Islands, Puerto Rico, Seychelles, the Syrian Arab Republic, the United States Minor Outlying Islands, the United States, and the United States Virgin Islands.

The rules of the campaign shall be subject to Poloniex's interpretations and decisions, which shall be final. We reserve the right to disqualify any person who is known or suspected to be cheating or violating any rules and regulations set by Poloniex.
Poloniex Team
December 15, 2022
Click to download Poloniex App
Find us on
Twitter: https://twitter.com/Poloniex
Telegram: https://t.me/PoloniexEnglish
Instagram: https://www.instagram.com/poloniexofficial/
Medium: https://medium.com/@Poloniex
Customer Support Twitter: https://twitter.com/PoloSupport
Announcement Telegram: https://t.me/PoloniexAnnouncements
Risk Warning
Cryptocurrency investment is subject to high market risk. Please make your investments cautiously. You are solely responsible for your investment decisions and Poloniex is not liable for any losses you may incur. Past performance is not a reliable predictor of future performance. You should only invest in products you are familiar with and where you understand the risks. We are committed to providing users with a service that is safer, more efficient, and more reliable for the trading of digital assets.