Dear Poloniex Users,
To celebrate the listing of Core Network(CORE)on Poloniex and give back to our customers for their trust and support, Poloniex is launching the "10,000,000,000 VOLT Airdrop to Celebrate the Listing of Core Network(CORE)" campaign together with the Core Network(CORE)team and Volt Inu(VOLT). Details are as follows:
Campaign period: 7 days, February 9, 2023 at 11:00 – February 16, 2023 at 10:59 (UTC)
During the promotion, all traders whose cumulative spot trading volume meets the minimum requirement and with a valid VOLT balance of at least 1 VOLT are eligible to share an airdropped prize pool of 10,000,000,000 VOLT based on the ranking of their trading volumes. Details are as follows: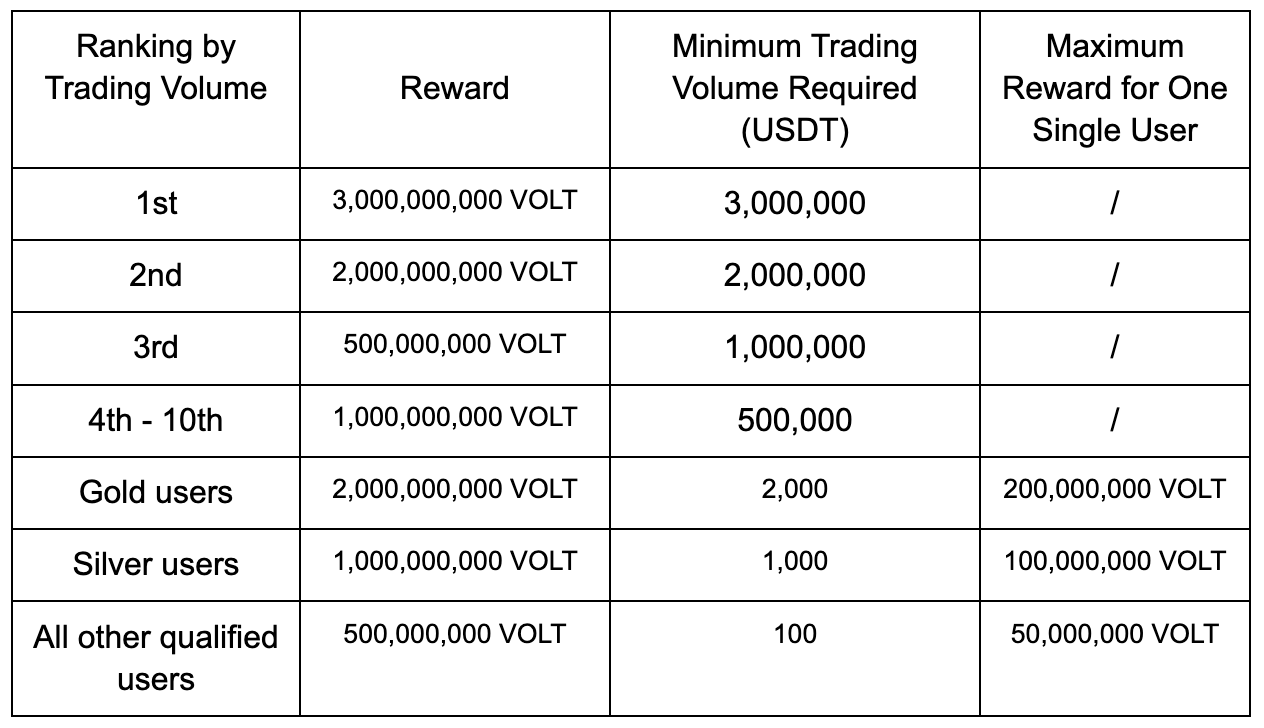 Rules and terms:
The valid trading pair of this campaign is CORE/USDT.

The rewards airdropped in this campaign are in VOLT.

The cumulative trading volume and rewards of this campaign are calculated in the following way:

Cumulative trading volume = Executed buys + Executed sells

The reward for a user ranked 4th–10th = The corresponding prize pool * Cumulative trading volume of the user / Total trading volume of all users qualified for this pool

This campaign is not open to market makers or VIP users.

Reward distribution: All rewards will be distributed within 20 working days after the campaign ends. You can log in to your account and view the rewards in Activity > Wallet.

Users deemed to have used multiple accounts in an attempt to win multiple prizes will be disqualified from this event.

We are unable to distribute rewards or airdrops to customer accounts that are frozen, closed, or based in a prohibited country. The list of prohibited countries/regions is as follows: Afghanistan, Burma, the Chinese Mainland, Crimea, Cuba, Democratic Republic of Congo, Iran, Iraq, Ivory Coast, Lebanon, Libya, Mali, North Korea, Palestine, Somalia, Sudan, Syrian Arab Republic, Yemen, Zimbabwe, the United States and all US Territories or any other country to which the United States embargoes goods or imposes similar sanctions ("Restricted Territories").

Poloniex employees who, in the course of their duties, become aware of inside information, whether intentionally or unintentionally, are considered insiders. Likewise, non-Poloniex employees who are informed of such information are also considered insiders. Insiders must abide by the following rules to avoid and prevent any insider trading:

The insider information must be kept strictly confidential and not disclosed to non-insider personnel (including family & relatives) inside or outside of Poloniex.
Insiders are not permitted to use their corporate or personal accounts to trade on Poloniex.

The rules of the campaign shall be subject to Poloniex's interpretations and decisions, which shall be final. We reserve the right to disqualify any person who is known or suspected to be cheating or violating any rules and regulations set by Poloniex.
The Poloniex Team
February 7, 2023
Click to download Poloniex App
Find us on
Twitter: https://twitter.com/Poloniex
Telegram: https://t.me/PoloniexEnglish
Instagram: https://www.instagram.com/poloniexofficial/
Medium: https://medium.com/@Poloniex
Customer Support Twitter: https://twitter.com/PoloSupport
Announcement Telegram: https://t.me/PoloniexAnnouncements
Risk Warning
Cryptocurrency investment is subject to high market risk. Please make your investments cautiously. You are solely responsible for your investment decisions and Poloniex is not liable for any losses you may incur. Past performance is not a reliable predictor of future performance. You should only invest in products you are familiar with and where you understand the risks. We are committed to providing users with a service that is safer, more efficient, and more reliable for the trading of digital assets.