App
Tap the Wallet icon at the bottom left corner of your screen
Tap Deposit
Select the currency you want to deposit, then click on "Continue"
Scan or copy your deposit address, and/or additional payment ID
Visit the withdrawal page on your origin wallet or exchange, and enter your copied Poloniex deposit address
Website
Click on the Wallet section at the top right of your screen, or navigate here: https://poloniex.com/wallet
Click on Deposit at the top right corner of the screen and then click the asset you wish to deposit
Copy your Poloniex deposit wallet address and/or additional payment ID
Visit the withdrawal page on your origin wallet or exchange, and enter your copied Poloniex deposit address
After 1 year, any unused deposit address may be deleted from your account, and made inactive or used for another purpose. If you deposit to an address unassigned to your account, you can and will lose access to these funds. Always check deposit addresses before depositing any currency.
Follow our in-depth guide below for more information:
STEP 1:
Visit your Deposits & Withdrawals page (under Balances at the top of your screen). Generate your Poloniex address by selecting the asset you wish to deposit after selecting Deposit at the top right. You will also see the payment ID or destination tag if the asset requires it. You can deposit coins into your account using the desktop or the mobile site.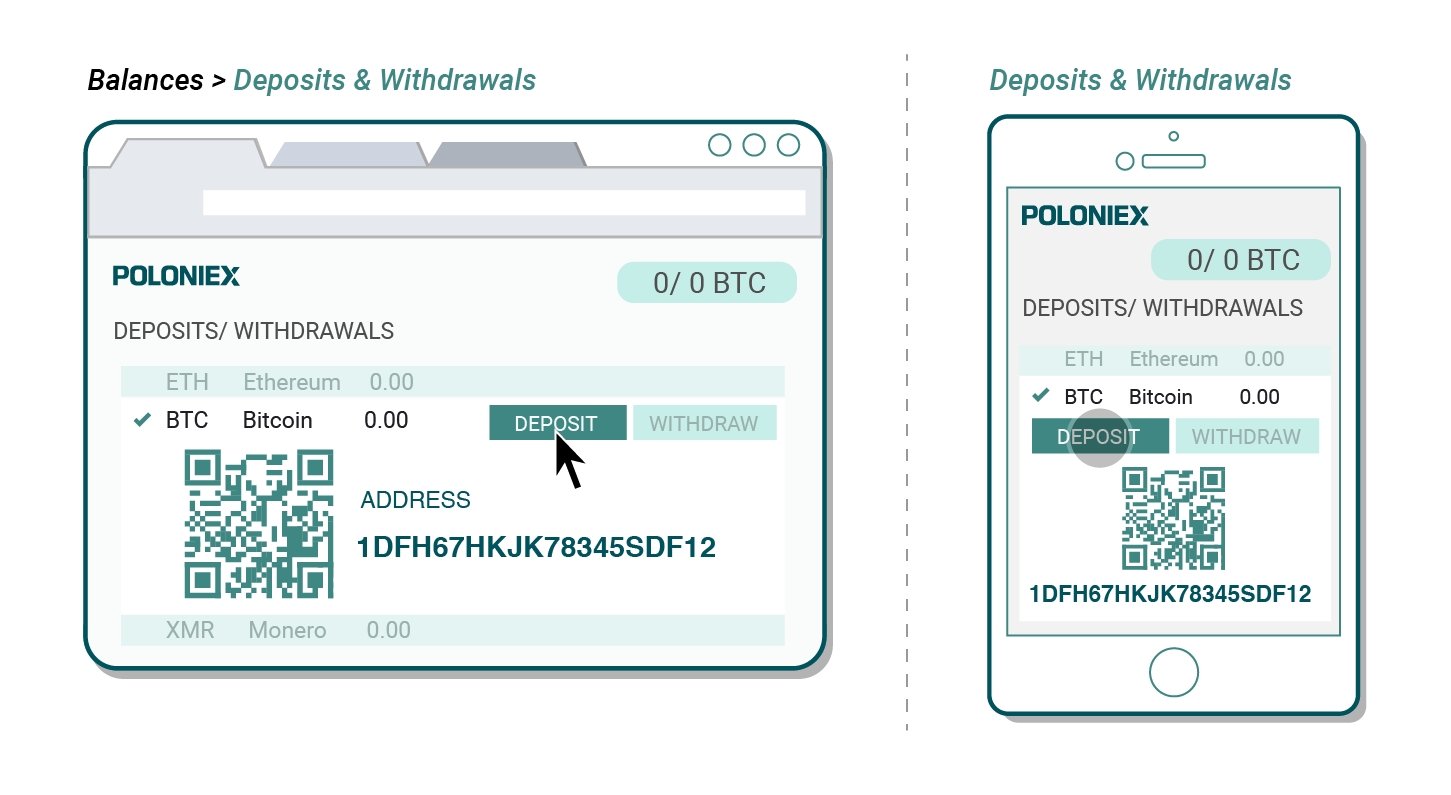 Important Notes!
Individual currency requirements:
Some currencies have additional memos, fields, payload and minimum deposit requirements. Please pay attention to these rules and exceptions before making deposits.
Double-check the type of coin and wallet address you are transferring to and from:
The most common deposit error is sending coins to an incompatible deposit address. For instance, do NOT send BTC to an ETH deposit address because this would result in a loss of funds. Please make sure you deposit to the deposit address of the correct coin type. Failure to adhere to these guidelines could result in your deposit being lost forever.

STEP 2:
Open your external desktop or mobile wallet to enter your Poloniex deposit address.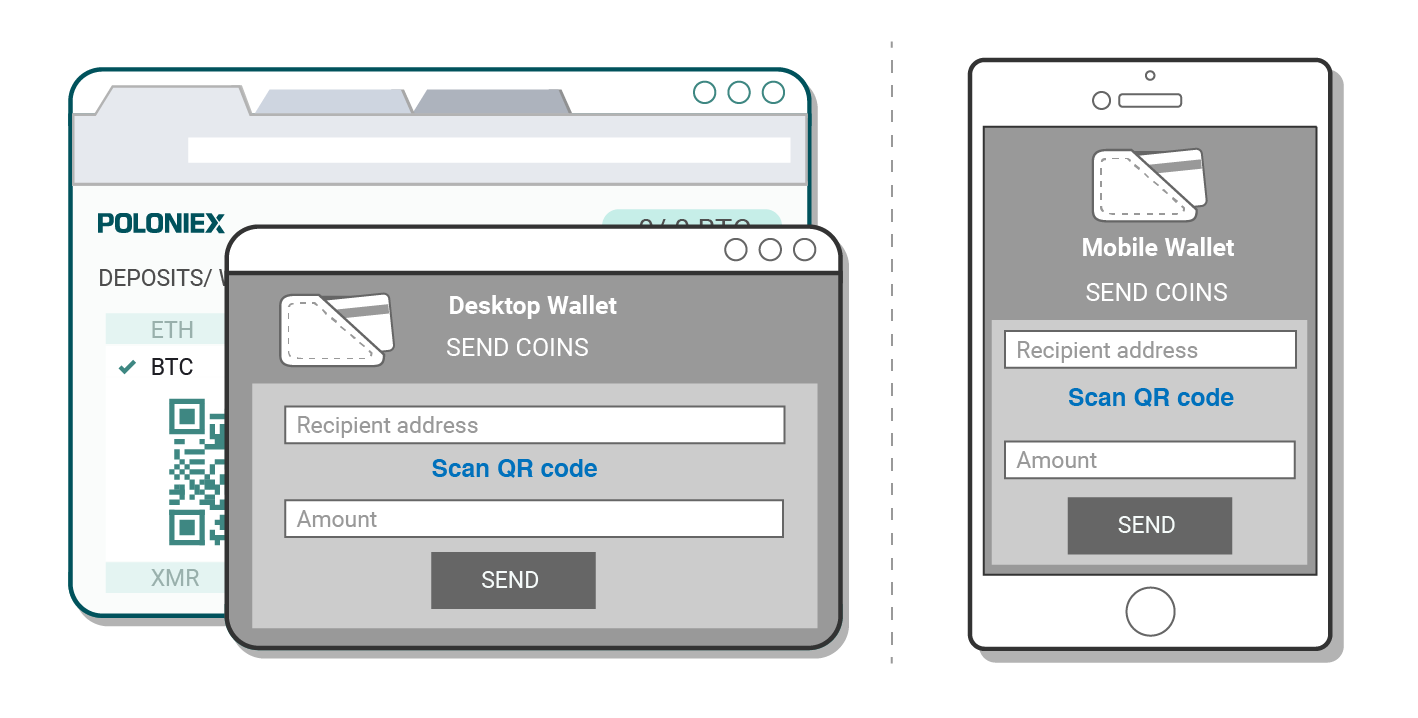 STEP 3:
You can use the QR scanner from your device (where you have your wallet) OR copy and paste the address.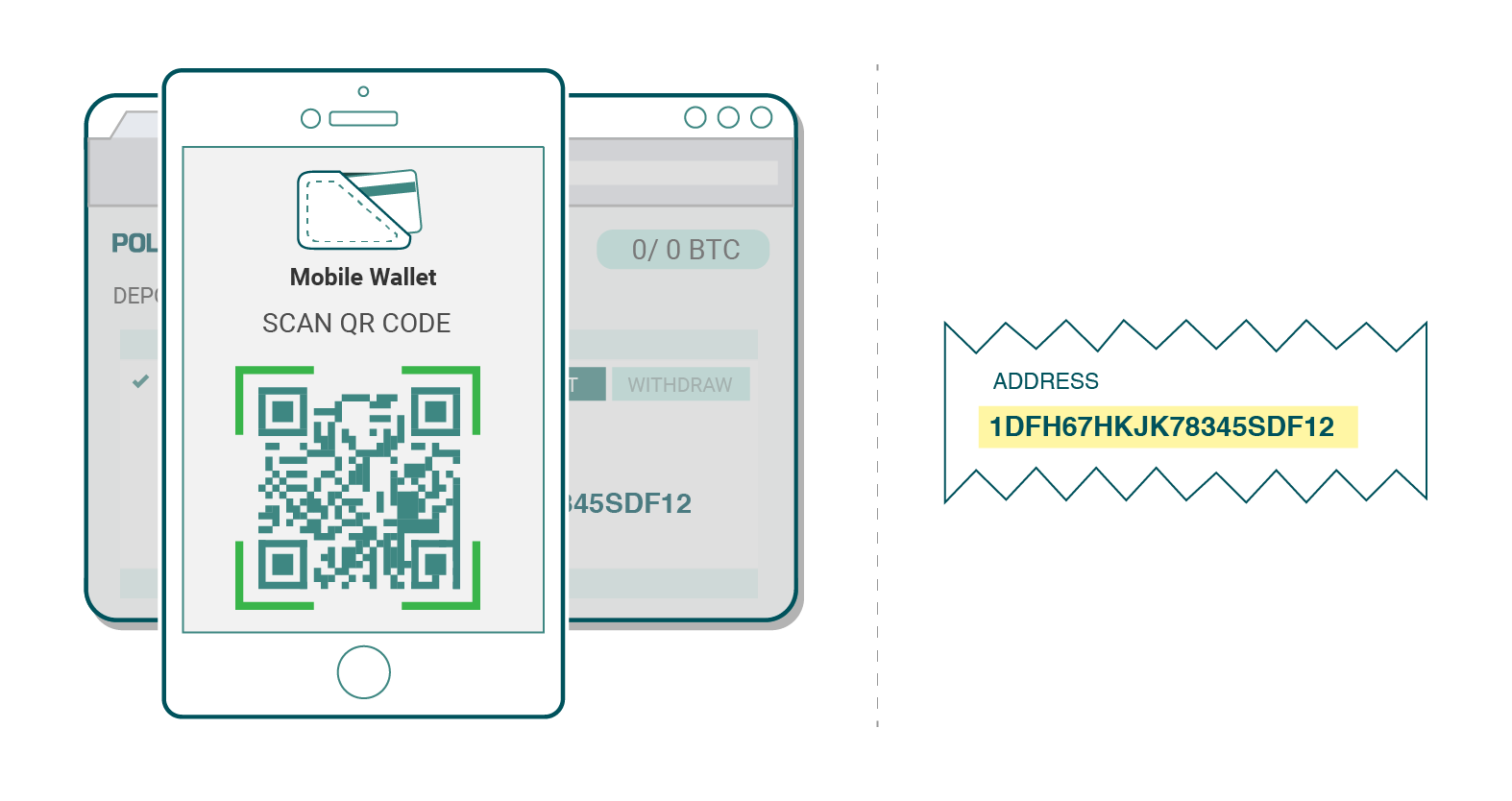 STEP 4:
It can take time for a transaction to be complete as Poloniex requires a certain number of confirmations before crediting funds. You can learn more about confirmations, and see the number of confirmations required for each coin at the bottom of this page. Depending on network congestion, it usually does not take more than 4 hours to complete. You may look at 'Deposit History' to view the progress of a transaction.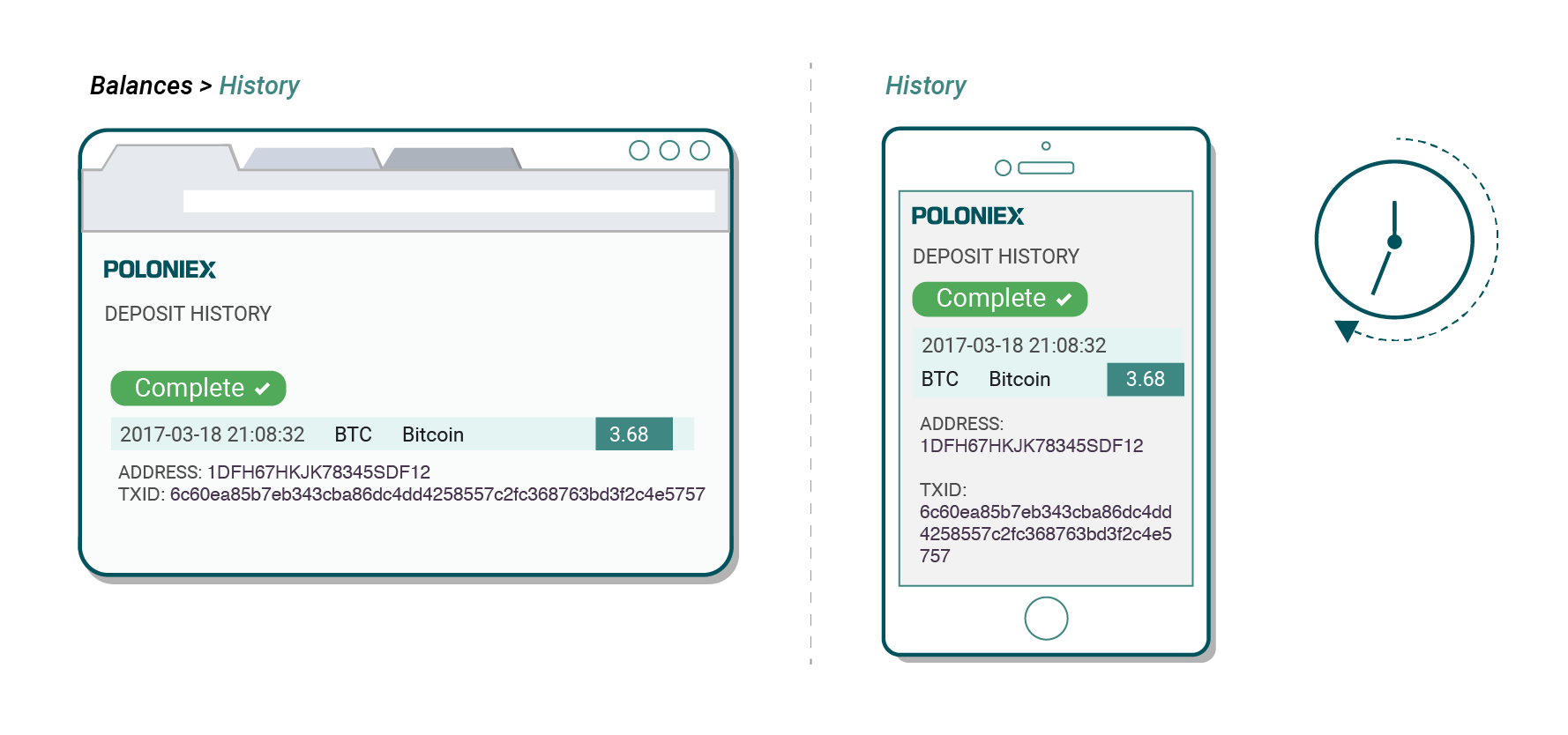 Your account balance will be updated once the deposit is complete.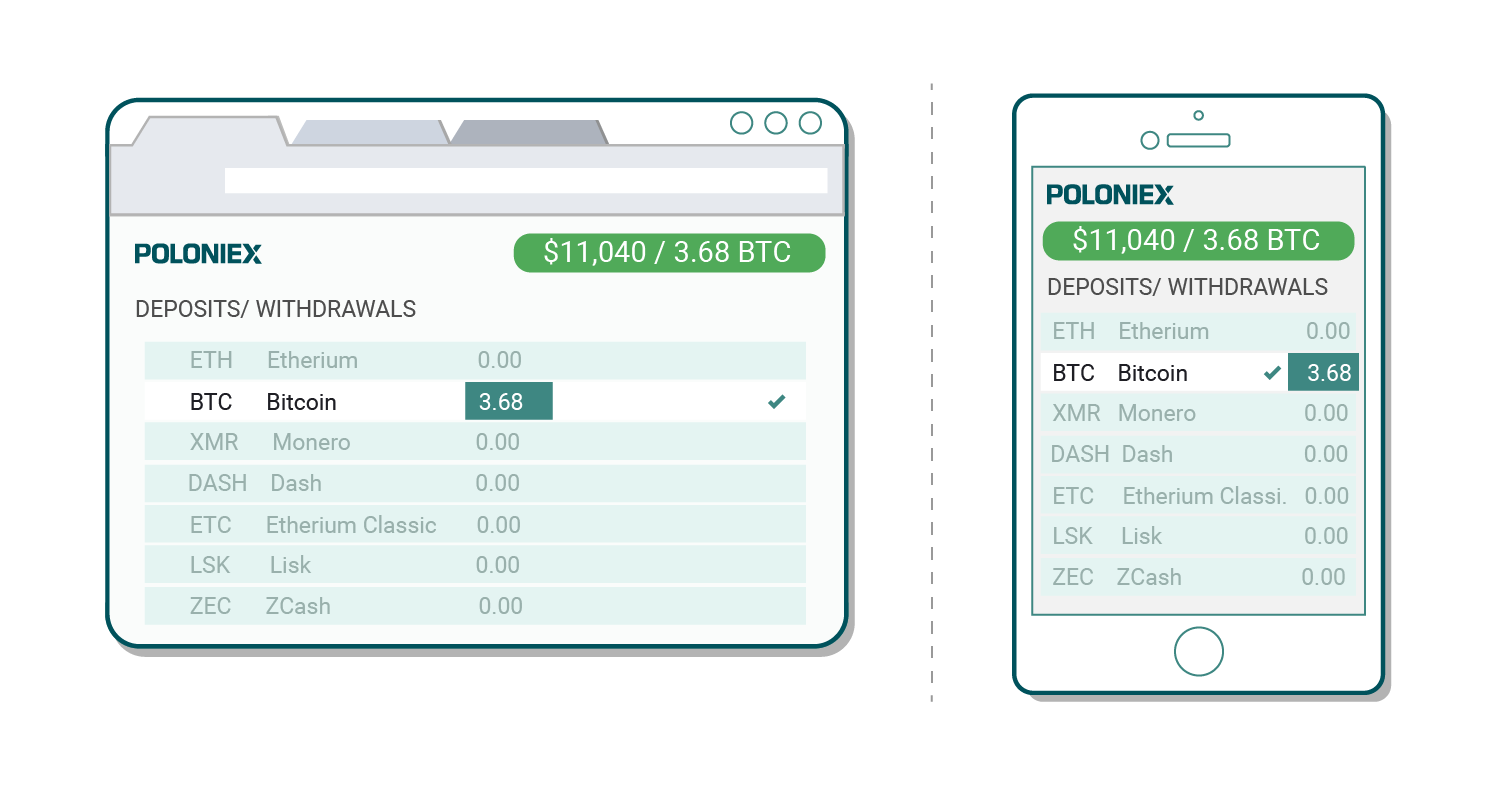 What are confirmations?
In essence, confirmations refer to the rate transactions occur through block generation. For BTC, roughly every ten minutes, a block is generated and confirmed. This number varies from coin to coin.
Each block contains information regarding recent transactions. Transactions are batched in blocks as a way of storing information, and ensuring immutability. On a high level, confirmations refer to the rate a coin network is updated.
For more information, please visit this page.