Poloniex offers two different options for securing and authenticating withdrawals. The default option is confirmation via email. The other is confirming via 2FA.
Confirmation via Email
Many customers prefer using email confirmation, as it can be considered a more secure option requiring multiple points of access before withdrawing.
With this option, when you initiate a withdrawal, an withdrawal confirmation email will be sent to your Poloniex-associated email. In the email you will be presented with a link to confirm the withdrawal. If you do not recognize the transaction, there is a link to our Support Center so you can create a ticket to report the activity.
The email will be from do-not-reply@poloniex.com and will look like this: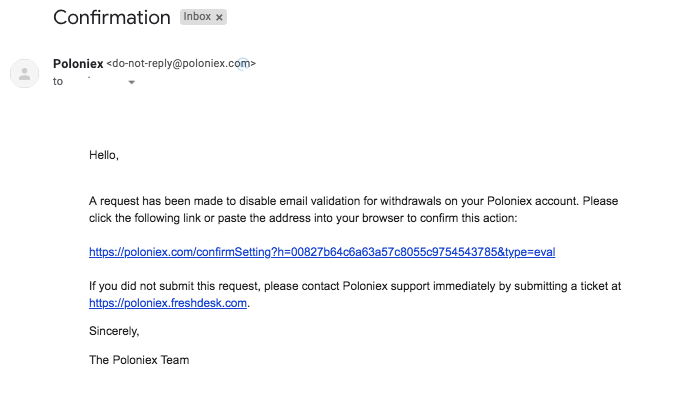 If you haven't received your withdrawal confirmation email, please check both your inbox and spam folders. Additionally, please check to see if there are any filters enabled on your email that may be filtering our emails to a separate folder. If still you're unable to locate the email, please try to whitelist or add the following domains to your contact list:
poloniex.com
verify@poloniex.com
do-not-reply@poloniex.com
Once you complete that step, you can resend the withdrawal confirmation here.
Occasionally, email providers block unrecognized IP addresses to prevent spam. If this happens, Poloniex receives a message that your email provider did not accept the email, and we send a request for our IP address to be allowed.
While we act quickly to submit the request, the issue is dependent on your email provider's response time. If you don't receive a Withdrawal Confirmation email in 48 hours, please create a support ticket.
Confirmation via 2FA
You can also use 2FA to confirm your withdrawals from your 2FA device.
With 2FA enabled, you will be asked to enter your 2FA code when placing withdrawals. You may optionally opt out of the additional step of email validation so that withdrawals are placed immediately after you enter your code.
To change this setting, navigate to the 2FA page, enable 2FA if you have not already done so, and then toggle the Enable/Disable Email Validation. As a result, you will be required to enter your 2FA code to confirm a withdrawal.