We use an automated system to verify customer information. While this is very efficient, it does require clear images and documents. To make sure your application is correctly processed automatically, please follow the suggestions below:
Make sure to use your legal name and last name (and that this name matches the name on your ID precisely).
Use your full, current address.
Take the pictures in a well-lit place.
On the document picture, make sure the whole document is visible and readable.
On the

ID verification photo

, make sure you hold up the document slightly closer to the camera, extend your arm in front of your body in a way the whole arm and shoulder is visible along with your face and document.
In the verification process, when you are prompted for a picture of your face, please hold a handwritten note next to your face with the word "Poloniex" and the current date written on the note. Typed or virtual notes will not be accepted. For an example of what this looks like, please take a look at the section below titled "How to take a verification photo".
This will ensure you have the best possible chance of having your application verified automatically within 1 hour. There are also several error messages that may appear on your profile page if our system detects an issue. Keep an eye on this page, and your email account, for any message, as you may be automatically presented with the chance to correct the error and re-submit your profile.
How to take an acceptable verification photo
An identity verification photo is a current photo taken of the Poloniex account holder, along with a handwritten note. Below are guidelines showing how the note must be written and held in order to reliably confirm the authenticity of the photo and the identity of the account holder.
The handwritten paper should be held next to your face and should read 'POLONIEX' along with the current date using the format shown below (MONTH DATE, YEAR).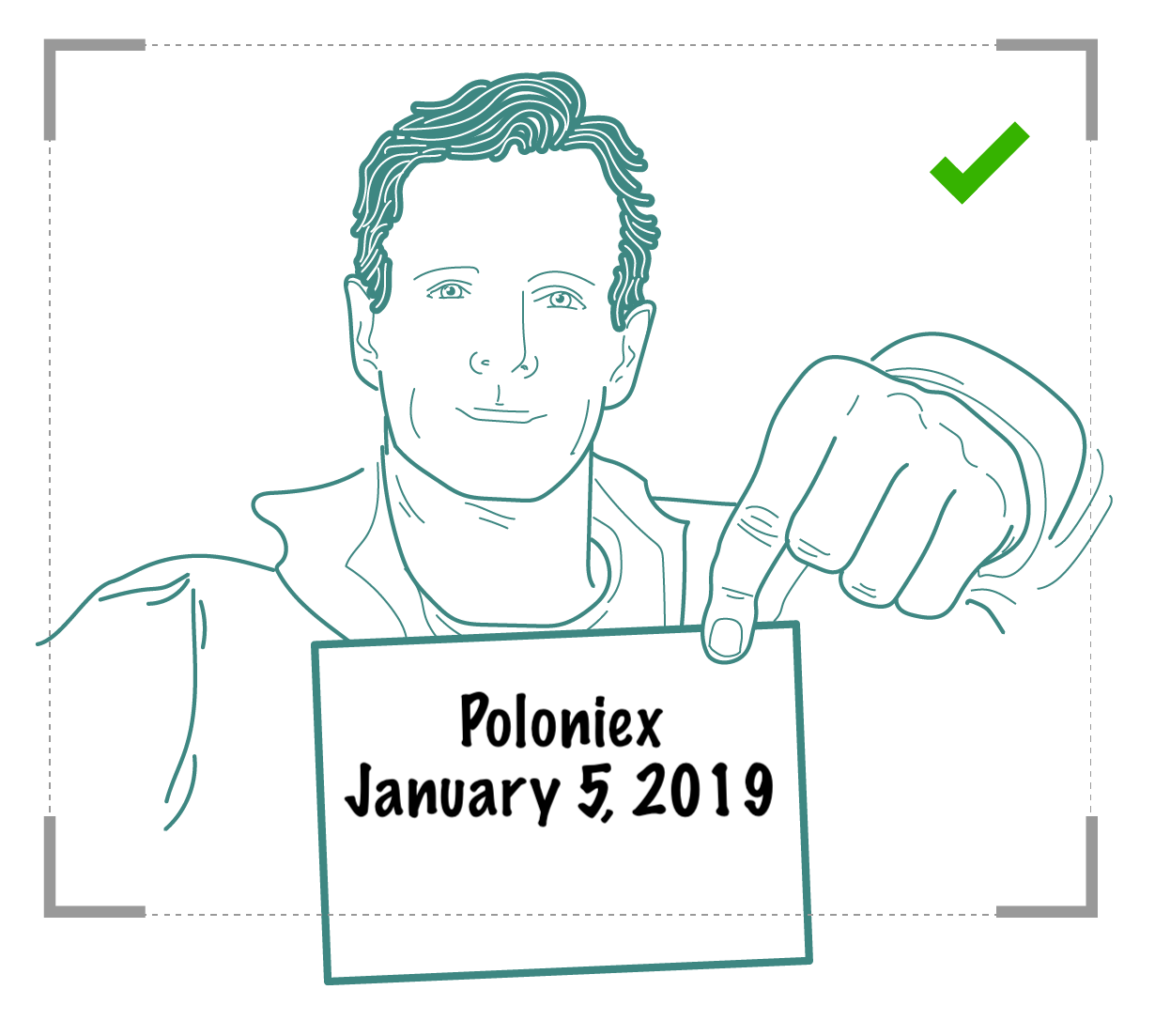 Why we need this
This lets us know that the image is current, and it makes it difficult for someone to forge your identity.
Verification Troubleshooting
If you are having trouble with our verification process, here are some troubleshooting tips that can help:
Update your browser to the most current version (and update the Flash plugin if you have it installed)
Google Chrome and Firefox browsers are recommended on Windows/macOS/Linux
Close any applications that might be using the webcam and ensure the webcam is working properly
Enable the webcam in your browser settings
Don't redact any information on your documents
Take the photos in a well-lit room and ensure that they are clear and that the ID is legible
You can also verify your account using your mobile device with our official iOS and Android apps.
If your verification is on a 'timeout', this timeout should last for a few minutes, after which you can try again.
If you still encounter any problem or need assistance with the verification process do not hesitate to create a support ticket, and an agent will assist you as soon as possible.
As a reminder, please do not attach any verification photos in a response to a support ticket. If you are still encountering problems, please take a screenshot of the error message and provide some details of the issue so we can troubleshoot accordingly.