What is Cosmos staking?
On June 28th, we announced that we would begin staking a portion of Cosmos ATOM belonging to customers and distribute the staking rewards back to eligible users. By simply depositing and holding ATOM on Poloniex, users will automatically earn staking rewards each day! Poloniex is the first exchange to offer staking rewards to Cosmos ATOM holders without a lock-up period, meaning that customers are free to trade and withdraw ATOM at anytime.
Frequently Asked Questions
Q: Why should I stake my ATOM with Poloniex instead of with a different wallet service?
To earn staking rewards on Cosmos, ATOM must be delegated to a validator. To transfer ATOM once it's been delegated, it must first undergo a 21-day "unbonding" period. This means that if you wished to trade your ATOM, you would have to first unbond them and wait three weeks before trading. ATOM do not earn staking rewards during the 21-day unbonding period.
With Poloniex's staking offering, customers will earn ATOM rewards while maintaining the flexibility to trade and withdraw at all times. This is the first offering of its kind. Along with this flexibility, customers will also be able to continuously earn staking rewards up to the moment they decide to trade their ATOM into a different asset. Poloniex's approach removes a barrier that until now, has prevented traders from benefiting from staking.
Q: Is there a fee for staking on Poloniex?
Poloniex charges a 25% service fee on staking rewards for providing staking to customers. A portion of this fee comes from the fee charged by the Cosmos validator node that Poloniex uses for staking. The remainder of the fee is used to supplement the operational costs and risks associated with managing staking services. After the fee is collected, customers will see their staking reward in the form of a daily deposit.
Q: How are staking reward rates calculated?
Staking reward rates are determined by a number of factors, including: the frequency of blocks produced by the Cosmos network and the amount of new ATOM issued per block by the protocol. In addition, rates may vary depending on the number of ATOM that Poloniex bonds with its validator and the service fee that Poloniex collects. The number of ATOM staked and the service fee are subject to change at the discretion of Poloniex.
Q: How does Poloniex calculate the reward distribution?
To calculate the reward distribution, a daily snapshot is taken of ATOM balances, including the balances of ATOM margin borrowers. After subtracting the Poloniex staking service fee of 25%, the remaining staking reward is distributed to customers proportionate to their balances at the time of the snapshot.
Q: I calculated the staking reward that I should receive, and see that I am receiving less than that on Poloniex. Why?
In order for Poloniex to enable 24/7 ATOM trading and withdrawals, we do not stake 100% of customer ATOMs deposited to Poloniex. Since we do not stake 100% of ATOMs at any given time, customers will not receive the same reward as ATOM holders who delegate directly to a validator.
This is an evolving service: to begin, we will stake roughly 25% of customer ATOMs and over time, we will optimize the total amount staked to maximize customer rewards.
Q: When will my account be credited with Cosmos staking rewards?
Staking rewards are distributed daily to customers that match our eligibility criteria (set out below) at the time of the distribution. The amount of ATOM distributed is proportionate to each user's balance at the time of the ATOM balance snapshot. Customers will begin earning staking rewards within one day of depositing ATOM to Poloniex.
Q: Can I set my Poloniex Cosmos address to receive staking rewards from an external wallet?
No, Poloniex Cosmos addresses will only recognize transfers from external wallets. Setting your Poloniex Cosmos address to receive staking rewards from an external wallet will result in a loss of rewards.
Q: How many ATOM do I need to hold to receive Cosmos staking rewards?
You must hold at least 1 ATOM in your Poloniex account at the time of the daily ATOM balance snapshot.
Q: Are there any other requirements to be eligible for Cosmos staking?
Eligible customers who held ATOM on Poloniex during the daily balance snapshot will receive Cosmos staking rewards each day. In order to qualify for staking rewards on any given day, your account must meet the following criteria at the time of the daily distribution:
You must have your verification status as 'Verified' (found at

www.poloniex.com/profile

)

Your account must be in good standing (not closed or frozen)

We are not able to provide Cosmos staking rewards to customers located in prohibited countries or jurisdictions highlighted in the

Poloniex User Agreement
Q: Help! My account was frozen during the distribution and I didn't receive my inflation.
If you believe that you should have received Cosmos staking rewards but don't see them on your Wallet History page, please feel free to get in touch with our support team and we will be happy to help you.
Q: If my ATOM is lent out during the weekly snapshot, will I still receive the inflation reward?
No, during the duration of a loan your ATOM is not counted as yours; it is counted as the borrower's. However, if you have an order or loan that is unfilled during the snapshot, you will still receive the credit.
Q: How will Cosmos staking rewards appear in my account?
If you are an eligible user (as described above), your account will be credited daily with staking rewards. The staking rewards will be a credit to your ATOM balance in the form of an airdrop. Look for the Earnings in Activity > Wallet > Other > Select Time > Select Type "Staking".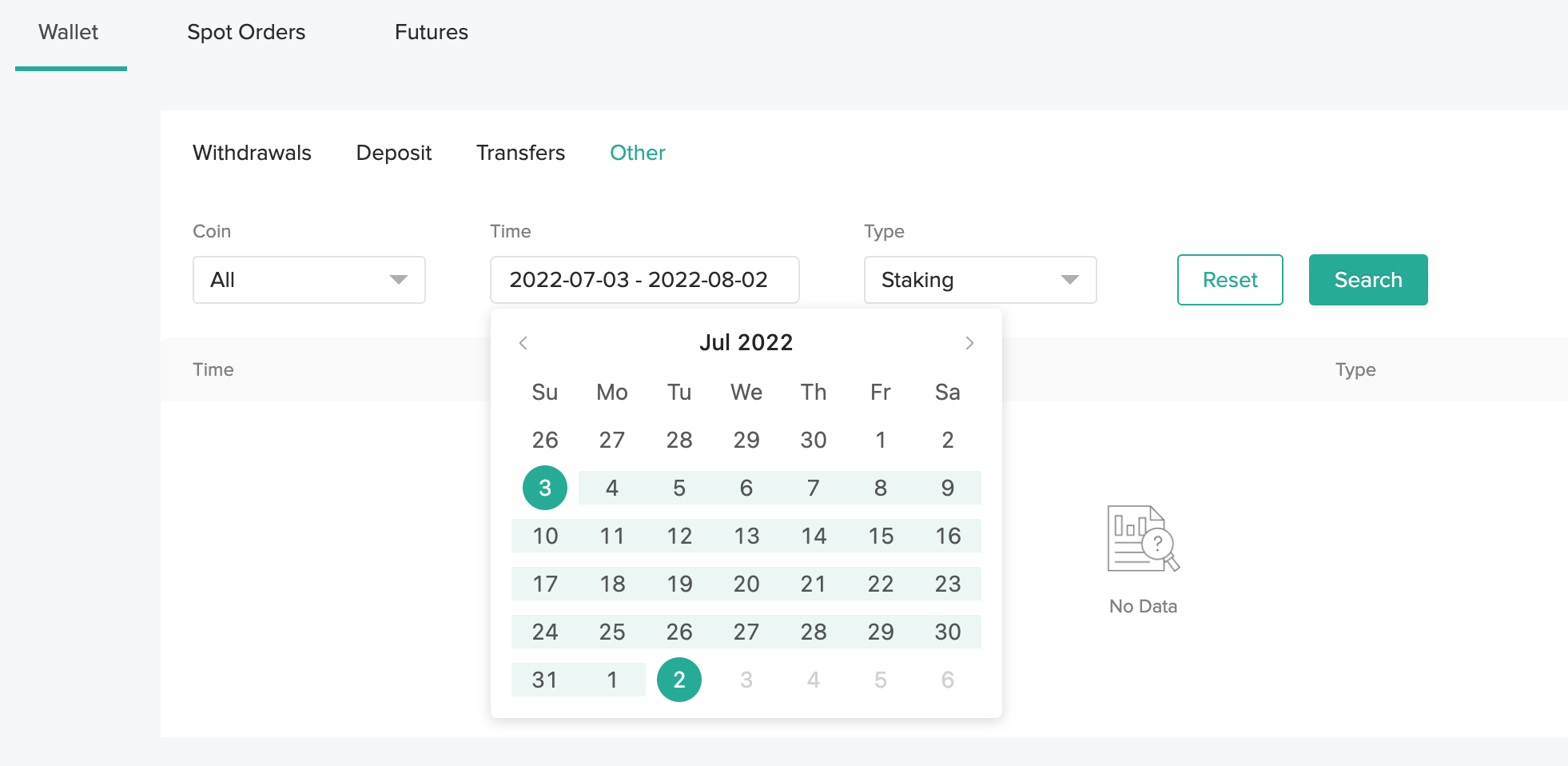 Q: Are there any risks to staking with Poloniex? Are my funds at risk of being slashed?
Two key types of risks exist when delegating ATOM to a validator node:
If a validator node experiences an extended period of downtime, the result is a

downtime slash

of ATOM bonded to the validator

If a validator node double-signs a block,the result is in a

double-sign slash

of ATOM bonded to the validator
If the validator node that Poloniex uses to provide staking services experiences extended downtime resulting in a downtime slash penalty being applied, customer funds will be protected from the slash with coverage from Poloniex. However, Poloniex can not guarantee that staking rewards will be distributed in full during a period of validator downtime.
If a validator is not actively participating in the network or attempts to double-sign a block, the ATOMs delegated to that validator will get slashed. Double-sign slash penalties results in 5% of the ATOMs delegated to that validator being burned. Due to the severity of this penalty, Poloniex has partnered with Infinity Stones, one of the industry's leading blockchain infrastructure providers with expertise in validator node operations. In the unlikely event that a double-sign slash occurs, Poloniex intends to compensate customers for ATOMs lost due to slashing. However, as with any crypto asset, and especially given the risks inherent in staking, customers should not obtain ATOM with funds that they cannot afford to lose.
In addition to the risks unique to staking, ATOM, like any other crypto asset, is subject to price volatility and technical issues that may be outside of Poloniex's control. Moreover, crypto assets are not covered by FDIC insurance. You should always consider whether you can afford to lose funds before purchasing or trading any crypto asset.
Q: Is receiving Cosmos staking rewards a taxable event for customers?
We recommend reaching out to a tax professional for more information.
Q: Where do I find my history of staking reward deposits for accounting purposes?
Navigate to your Wallet History and tap the Export Adjustments link. This will download a CSV file containing your history of earnings on Poloniex.
Q: Besides receiving staking rewards, can I participate in Cosmos governance on Poloniex?
Initially, Poloniex will work with its validator node service provider, Infinity Stones, to participate in Cosmos network governance decisions and will strive to make reasonable decisions for the community. As our staking service evolves, we will explore different options for allowing ATOM holders on Poloniex to participate in Cosmos governance more directly.