Poloniex Futures is a cryptocurrency futures trading platform that offers trading for Bitcoin perpetual swaps.
Trading Market: USDT Collateralized Contracts
The USDT collateralized contract uses USDT as margin to exchange bitcoin contracts.
Type

Margin

PnL & Settlement Coin

Max Leverage

Supported Contracts

Price Fluctuation

USDT Collateralized




USDT




USDT




100x

BTCUSDTPERP

Stable, will not be influenced by USDT price fluctuation




ETHUSDTPERP

50x

BCHUSDTPERP

BSVUSDTPERP

YFIUSDTPERP

UNIUSDTPERP

LINKUSDTPERP

TRXUSDTPERP

20x

XRPUSDTPERP
Layout Overview
Trade:

You can open or close a long or short position in this area

Market:

Poloniex Futures offers a candlestick chart, market chart, as well as the recent trade list and orderbook on the trading interface to display the market changes for you in full dimension

Positions:

In the position area, you can check your open positions and order status with a simple click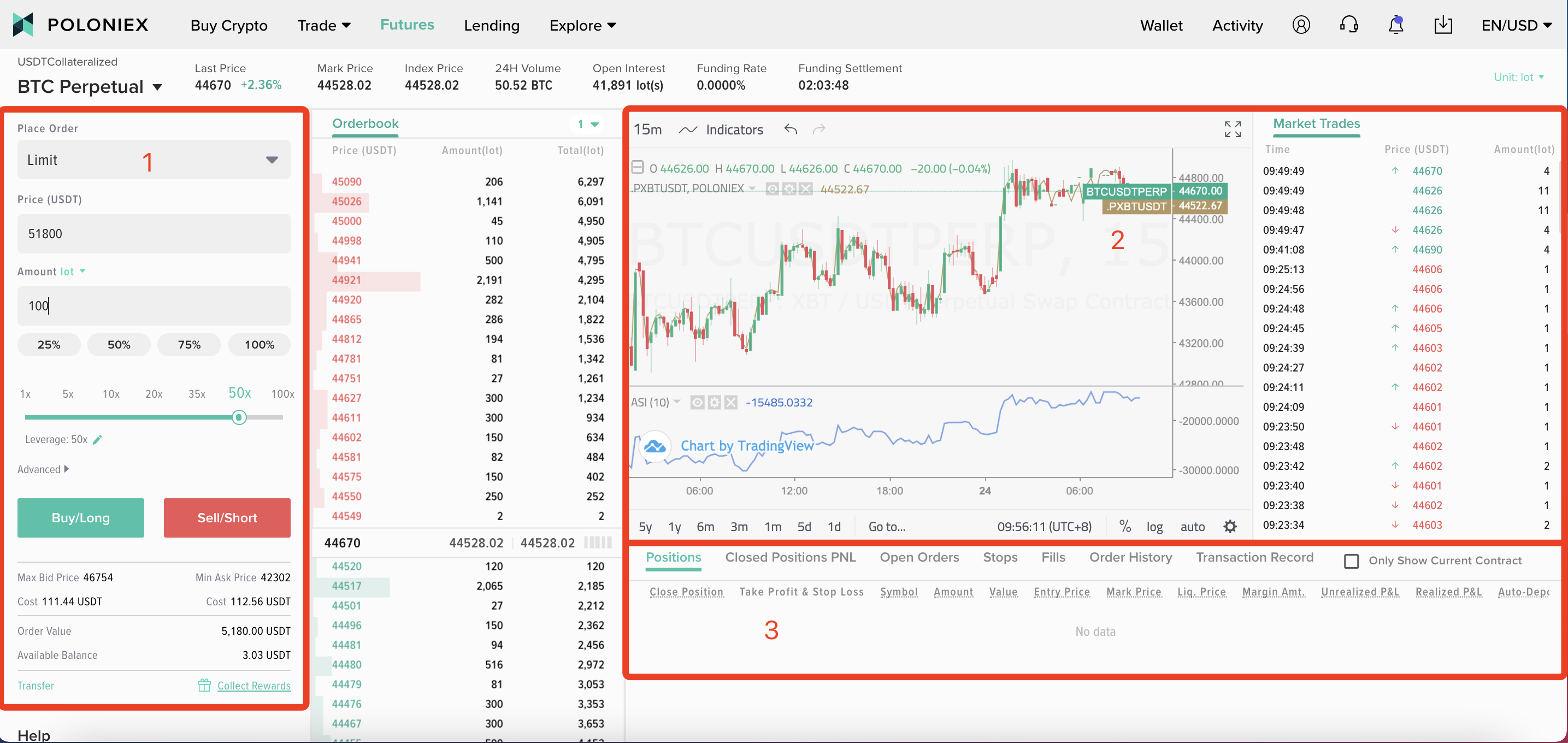 To Trade
1. Log In or Sign Up
Log In:

If you already have a Poloniex account, you can

log in

directly to start trading on Poloniex Futures

Sign Up:

If you do not have a Poloniex account, please

sign up

and verify your account to begin trading on Poloniex Futures
2. Enable Futures Trading
To enable futures trading, please click the button "Enable Futures Trading"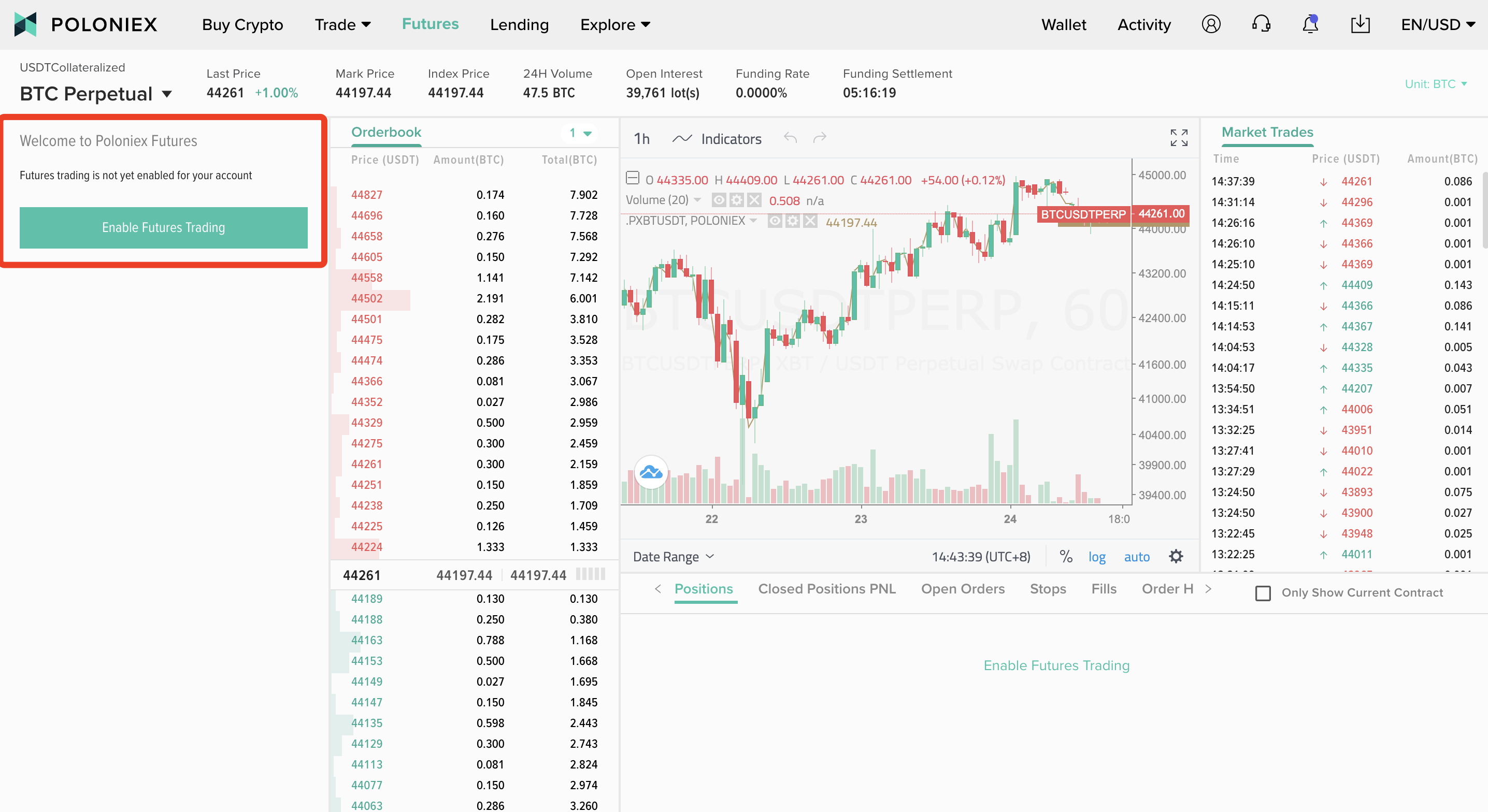 3. Assets and holdings
To check your balance on Poloniex, click "WALLET" in the top right corner of the page and you will be taken to your Balances page.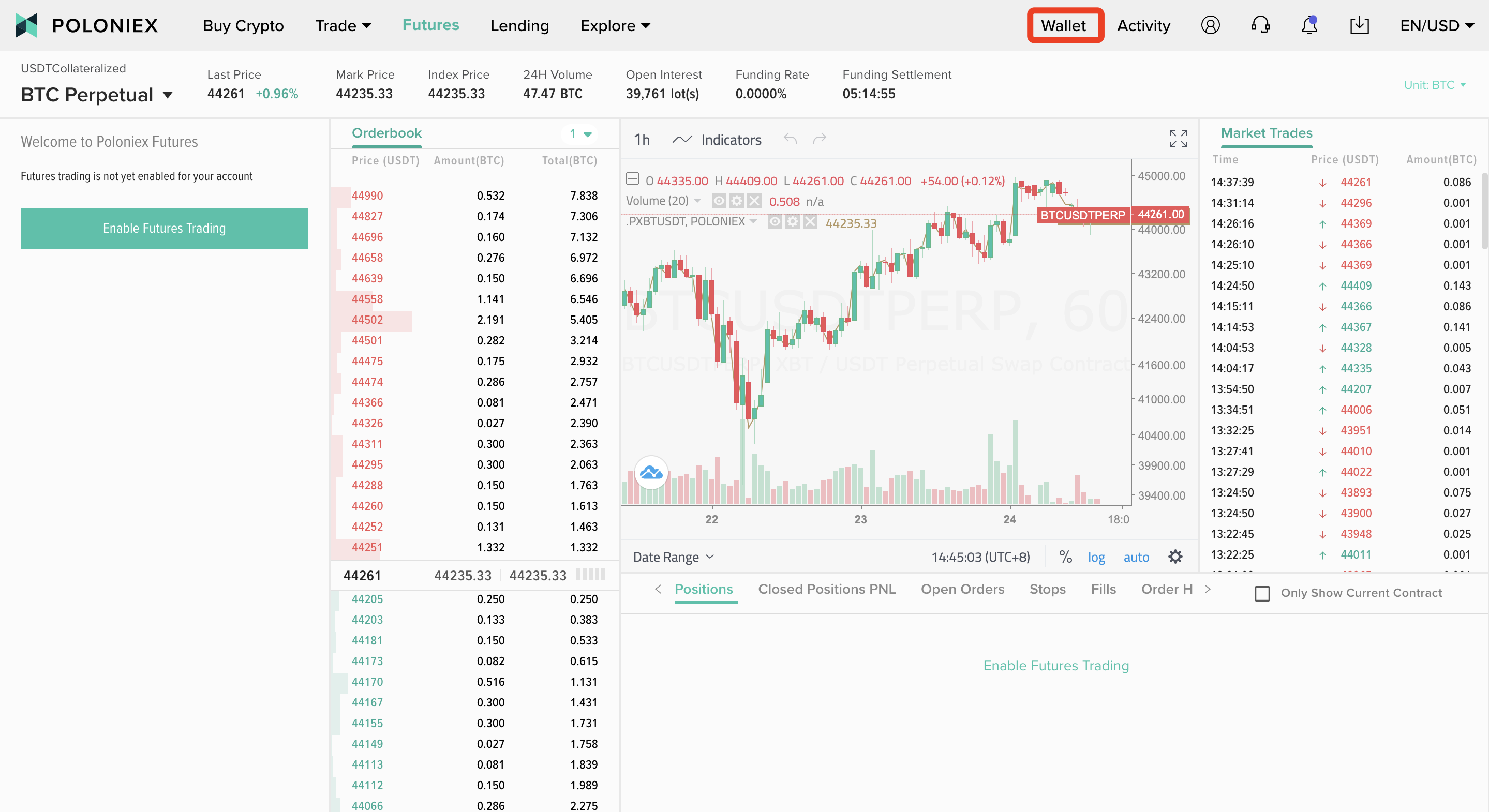 In your balances page, you can check your total assets held within your Poloniex account, including your exchange wallet, lending wallet, margin wallet, and futures wallet.
To fund your Poloniex Futures account, you will need to visit the transfer balances page and transfer USDT from either your exchange, lending, or margin wallet to your futures wallet.
4. Placing an order
To place an order on the Poloniex Futures exchange, please select the order type, leverage, and enter your order amount.
Order Type
Poloniex Futures supports three types of orders currently: a) limit order, b) market order, c) stop order.
Limit Order:

A limit order is used to pre-specify a price to buy or sell an asset. On Poloniex Futures, you can enter the order price and amount and click "Buy/Long" or "Sell/Short" to place a limit order

Market Order:

A market order is an order to buy or sell the product at the best available price in the current market. On the futures exchange, you can enter the order amount and click "Buy/Long" or "Sell/Short" to place a market order

Stop Order:

A stop order is an order which will be triggered when the given price reaches the pre-specified stop price. On the futures exchange, you can select trigger type and set stop price, order price and order amount to place a stop order
You can choose how you display your order units, either "Lot" or "BTC". If you choose to switch your units, the quantity unit displayed on the exchange will change as well.
Leverage
Leverage can be used to amplify your gains. The higher the leverage is, the greater the earnings potential. The inverse can be said as well, with higher leverage comes a higher chance for loss. Read more about the risks of futures trading here.
Advanced Settings
Poloniex Futures offers advanced order settings including "Post Only," "Hidden," and Time in Force policies such as "Good till cancel," "Immediate or cancel," and more. Please note that these advanced settings are only available for limit or stop orders.
Buy/Long & Sell/Short
With futures contracts, you can enter a long position or a short position
You will earn profit on a long position if the price of the asset increases

You will earn profit on a short position if the price of the asset decreases
There are maximum and minimum order price restrictions for orders;
The "Cost" is the amount of margin needed to execute an order. Please ensure you have a sufficient balance in your account before placing an order.
5. Position Monitoring
If your order is executed, you can check your position details in the "Open Positions" section on the exchange.

Quantity: Number of contracts in an order.
Entry Price: Average entry price of your current position.
Liquidation Price: The estimated price at which your position will be liquidated.
Unrealized P&L: The unrealized profit and loss of the current positions. This profit/loss will be realized when closing your position. The percentage indicates the proportion of the profit and loss to the order amount. Please keep in mind that this is an estimation.
Realized P&L: Realized profit/loss of your position. Trading fees as well as funding fees are also included in the realized P&L calculation.
Margin: The minimum amount of funds you must hold to keep a position open. Once the margin balance drops below the maintenance margin, your position will be liquidated.
Auto-Deposit Margin: When Auto-Deposit Margin mode is enabled, funds in your Wallet will be added to your existing positions whenever a liquidation event occurs in an attempt to prevent your position from being liquidated.
Take Profit/Stop Loss: When you enable Take Profit or Stop Loss, the system will automatically perform the take profit and stop loss operations to help mitigate any risk and/or loss.
6. Closing a Position
To close a position, you can click "Close" directly in the position area on the exchange. You can close your positions with a market or limit order in your position list.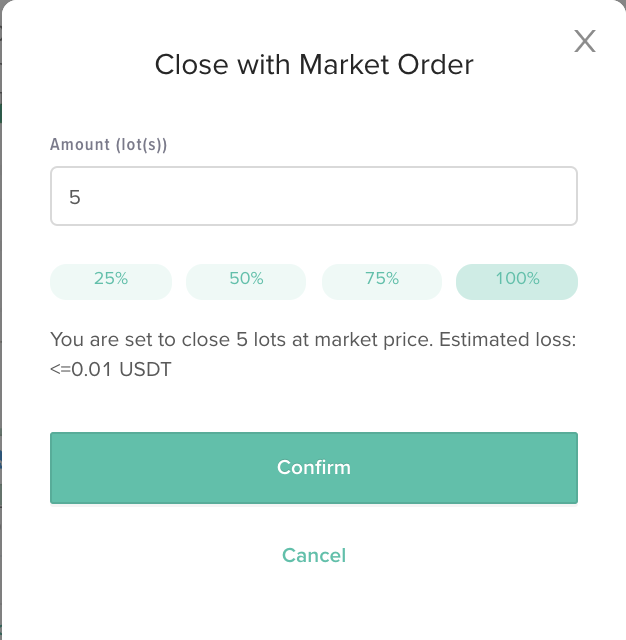 1) Close with Market Order: Enter the position size you plan to close, click "Confirm" and your positions will be closed at the current market price.
2) Close with Limit Order: Enter the position price and position size you want to close and click "Confirm" to close your positions.