We know how important it is to keep personal records of your transaction history. That's why we have that functionality available in the 'Activity' tab. Once you click into the 'Activity' tab, you can view all of the different transactions you have made on Poloniex.

Navigate to the top right of the page and click 'Export' to begin the export process. Once you click that button, you will be prompted to select from a variety of different actions: Deposits, Withdrawals, Distributions, Trades, Margin Borrowing, and Lending.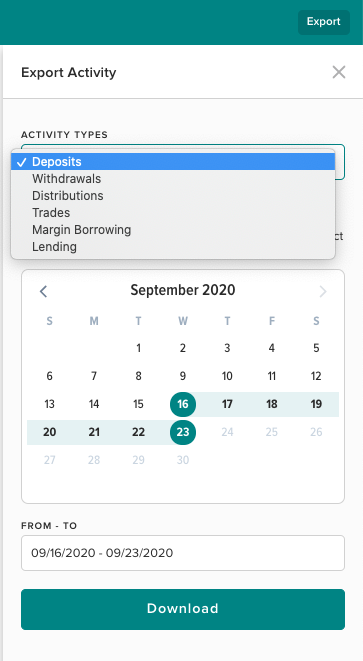 You are also able to select a date range to view your transactions over an exact period of time. Once you click 'Download' the file will appear in the downloads on your computer or device.
Note: Large files have been known to have issues downloading. If you trade frequently, we advise selecting a small date range.


Can I generate a Balance Snapshot?
From time to time, our customers request the ability to generate a Balance Snapshot for a specific date. At this time, we do not have a feature that allows customers to do this themselves. However, our Support Team can send our customers Balance Snapshots by request. If you require a Balance Snapshot, please submit a ticket to our Support Center specifying the requested date and we'll follow up with you shortly.


Additionally, due to the wide variety of jurisdictions Poloniex operates in, Poloniex does not generate tax reporting documents. For advice regarding how to best report activity, we recommend reaching out to a local tax professional who specializes in your jurisdiction.