January 18, 2021 marks a new milestone for us at Poloniex. Seven years after our founding, both the crypto industry and Poloniex have changed immensely. As we begin the celebrations of our 7 year anniversary, we're looking back at the last seven years and looking ahead to what's next.
Let's take a quick trip back to January 2014. Ethereum didn't yet exist, Bitcoin had only been pronounced "dead" 25 times, and below is what the top 10 crypto assets looked like. What a time to be a crypto trader.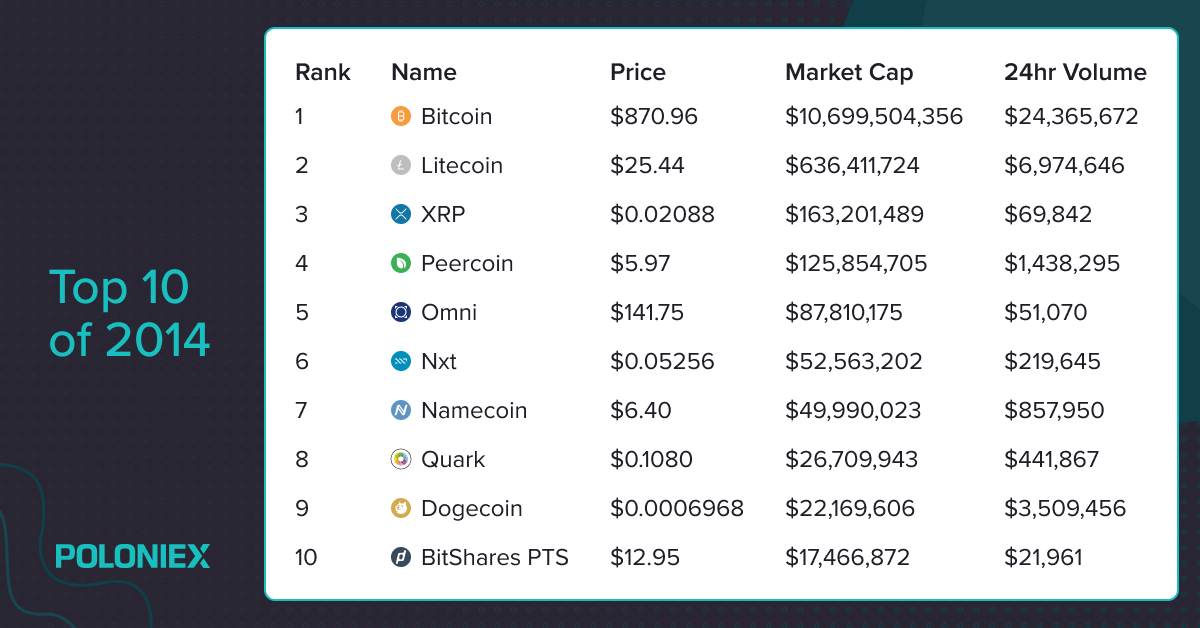 Flash forward to today. Ethereum is now the second biggest crypto asset, Bitcoin has "died'' 395 times, and only 3 of the top 10 assets are still in the top 10. If you had bought 1 Bitcoin on the day Poloniex was founded (and kept hodling), you would now be up over 4,000%.
Over the past seven years, we've been committed to building one of the world's most advanced digital asset trading platforms. We've always believed in providing access to the most innovative assets, enabling customers to trade and use their crypto, and maintaining the security of our platform and customers' funds. While we've expanded our products, listings, and security over the past seven years, our mission has never changed. We are still, and will continue to be, dedicated to building and supporting the future of crypto.
We owe a great deal to our customers who have supported us over the years, our partners who have built alongside us, and our employees who are at the forefront of all things Poloniex. We couldn't be here today without all of you.
In celebration of our seventh anniversary, we have many campaigns, listings, and events over the next week. Join us in celebrating through the campaigns on our Help Center and keep an eye on our Twitter for more listings and events coming soon!
Seven years in working with our customers. Seven years in supporting crypto innovation. Seven years in building one of the world's most advanced digital asset exchanges. Here's to many more years together.