Campaign period: 7 days, July 16, 2021 at 01:00 - July 23, 2021 at 00:59 (UTC)
Rewards:
[Buy TUSD at a discount of up to 70%]
During the campaign, users who buy TUSD through specified trading pairs will be eligible for a discount of up to 70%. The earlier they buy, the larger the discount. When the first prize pool is depleted, the next one will be automatically applied to offer discounts. A total prize pool of 12,000 TUSD is offered on a first-come-first-serve basis.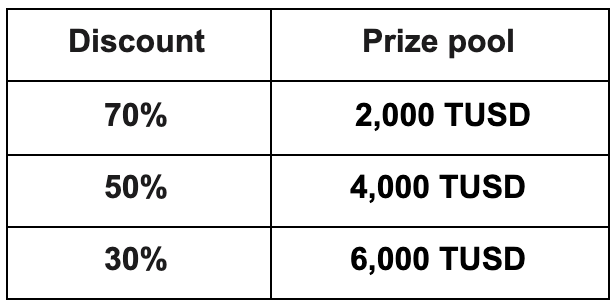 [Hold TUSD to enjoy an APR of up to 50%]
During the campaign, Poloniex users will enjoy up to 50% APR for their TUSD balance upon the snapshot. The total prize pool is 8,000 TUSD.
Rules and Terms:
Eligible trading pairs for this campaign are TUSD/USDT and TUSD/USDC.

During the campaign, only users who buy no less than 300 TUSDwill be eligible to [buy TUSD at a discount of up to 70%]. Each user can enjoy up to 100 TUSD as rebates.

Users may join the campaign on any given day, and Poloniex will take four snapshots of users' TUSD balances at around 18:00, 00:00, 06:00 and 12:00 (UTC) each day. Please make sure you have sufficient TUSD balance [Wallet - Asset Balance - TUSD] during this time. TUSD in pending orders, pending deposits, and pending withdrawals will not count towards your balance.

Reward calculation: Reward for a user = Total TUSD the user holds * 50% * Number of snapshots showing that the user holds TUSD/365 days/4 (number of snapshots taken each day). For example: User A has an TUSD balance of 10,000 TUSD after depositing/trading on the second day of the campaign, and holds the same amount until the end of the campaign. User A got 6 days of snapshots (6*4=24 snapshots in total), which leads to a prize of 10,000*50%*24/365/4=82 TUSD.

Users enjoy a 50% APR on their TUSD deposit, and the rewards will start to accrue from the first balance snapshot taken during the campaign. The total prize pool of this campaign is 8,000 TUSD. At the end of the campaign, if we determine that the total prize pool is not enough to offer a 50%APR, we will distribute the prize to users in proportion to their balance and days of participation.

During the campaign, only users with a balance of no less than 100 TUSD will be eligible to [hold TUSD to enjoy an APR of up to 50%]. Each user can earn up to 100 TUSD in total.

Poloniex Plus Silver or higher-level members are not eligible for this campaign.

All rewards will be distributed within ten working days after the campaign ends. You can log in to your account and check the rewards in Activity-Wallet.

If we determine that an individual has used multiple accounts to win multiple prizes, we will distribute only one reward to that individual. We will distribute the most valuable of the rewards, as determined by the USD value.

We are unable to distribute rewards or airdrops to customer accounts that are frozen, closed, or based in a prohibited country. Prohibited locations include: American Samoa, Cuba, Guam, Iran (the Islamic Republic of), Democratic People's Republic of Korea, Northern Mariana Islands, Puerto Rico, Seychelles, Syrian Arab Republic, United States minor outlying islands, the United States, and Virgin Islands (U.S.).

The rules of the promotion shall be subject to Poloniex's interpretations and decisions, which shall be final. We reserve the right to disqualify any person who is known or suspected to be cheating or violating any rules and regulations set by Poloniex.
July 16, 2021