What is the Poloniex Space Traveller Program?
We are looking for partners who share the same values as Poloniex to join forces in growing the community in the blockchain industry. Poloniex launched the Space Traveller Program to allow you to create a unique referral link and share with your community. Anyone who clicks on the link and completes the registration becomes your referral(s). You will receive commissions on all trades completed by your network including Spot, Margin and Futures trading.
Who can join the Poloniex Space Traveller Program?
Every Poloniex user

Twitter KOL's, telegram community managers, YouTube/Tiktok video bloggers, crypto community leaders, media content creators and other influencers who are willing to promote Poloniex (preferably with social media account with more than 5,000 followers, or a community with more than 500 members).

Cryptocurrency media platforms, tool sites, quotes sites, and other related sites.

Promotion gurus, institutions, and organizations etc.
How to join the Poloniex Space Traveller Program?
Step 1: Sign up as a Poloniex Space Traveller
Fill out the form to apply for the Poloniex Space Traveller program, and our dedicated team will review and contact you.
Step 2: Share your exclusive link
You can create and manage your unique referral link on the Poloniex referral page, and you can spread the link with your networks.
Step 3: Enjoy recurring commissions
Whenever a user signs up for Poloniex through your referral link, you will receive a commission up to 50% from the completed trades. Additionally, if you manage to achieve the "Sun Captain" tier, you will also receive an additional 10% secondary referral commission if your referee gets others to trade on Poloniex too.
How long can I enjoy the Space Traveller commission if I joined the program?
You will enjoy the commissions generated from the completed trades by your referral networks as long as there are still active trades with Poloniex. This entitles you to generate commissions permanently. The commission tier will depend on the contribution level which our team will review every month.
Poloniex Space Traveller Commission Scheme
Direct Commission:
Your direct commission is generated by the completed trades from the referees, and you will receive your commission on a daily basis. There are 4 tiers which determine the percentage of your commission. Your initial commission tier is "Rocket Scientist" once you open an account with Poloniex.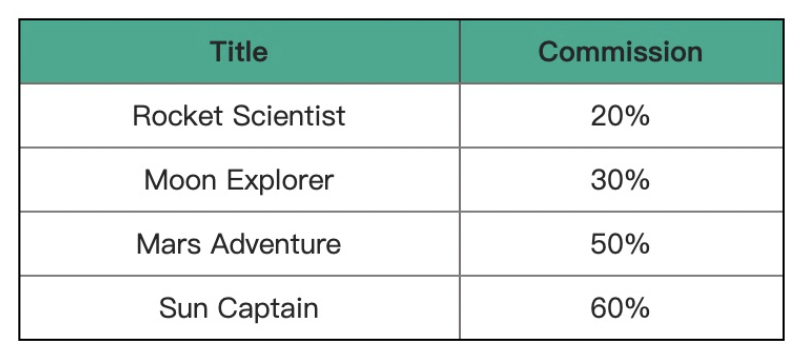 Secondary Commission:
This secondary commission is reserved for Sun Captains only. All the completed trades done by the clients referred by the sub-referral will contribute 10% of the commission to the main referral. Please be advised that this 10% of commission does not affect the original commission scheme for the sub-referral (50% or 60%) and the main referral can only receive the secondary commission while the sub-referral is a valid Poloniex Space Traveller.
For example, if A invites B to be a Space Traveller, B invites C to be a trading client, then A is the main referral, and B is a sub-referral. A can get a 10% commission from C's trading; while B receives commission from C's trading depending on B's commission tier.
For Sun Captains, the secondary commission rebate (10%) of futures trading will be distributed before the 10th of next month.
Poloniex Space Traveller Tier Adjusting Mechanism
For tier adjusting mechanism, Poloniex Space Traveller program applies two types of criteria. You will level up by meeting either one of them. If you meet both criteria and are eligible for two tiers simultaneously, you will move up to whichever is higher next month.
Criteria A assess the number of referrals and the activation rate in a month:

Criteria B assess the trading volume from all your referrals in a month:

Examples:
Suppose you invited 20 new users this month, and over 20% of them are activated; then you are qualified to be a Mars Adventurer. If, in the meantime, the total trading volume of all your referrals adds up to 100,000 USDT, then you are qualified to be Sun Captain. In this case, you will be promoted to Sun Captain next month as it is the higher level.
Suppose you didn't bring any new users to Poloniex this month, but the total trading volume of your previous referrals adds up to 100,000 USDT, then you can still be promoted to "Sun Captain" and enjoy a commission as high as 60% next month.
Terms and Conditions
Inviting yourself to get commissions is strictly prohibited in the Space Traveller program. Poloniex will disqualify any Space Traveller who violates the integrity and reserve rights to revoke the commissions they have received.

Hijacking official traffic or jeopardizing Poloniex clients' account security will lead to cancellation of the Space Traveller entitlement immediately and any commission receivables will be revoked.

Poloniex reserves all rights of final interpretation of this program, and could make amendments without prior notification.

All former programs will upgrade automatically to this plan.

If you have any questions, please don't hesitate to contact our customer support or view our help center.
Poloniex Team
April 28, 2022