This guide is written for the purpose to guide users who are withdrawing tokens from Poloniex to their MetaMask Wallet.
Example: Withdrawing USDT from Poloniex Exchange to MetaMask wallet via ETH Network (ERC-20 network).
If you are withdrawing tokens on other EVM compatible blockchain networks. It is important to add these custom networks on MetaMask before withdrawing.
Withdrawing from Poloniex Account
On the USDT withdrawal page, select ERC-20 as the withdrawing network. Copy the address on your MetaMask Wallet and paste it in your account "Address Section".
Transaction fee is automatically computed for you when you input your ERC20 address. Enter the amount to withdraw.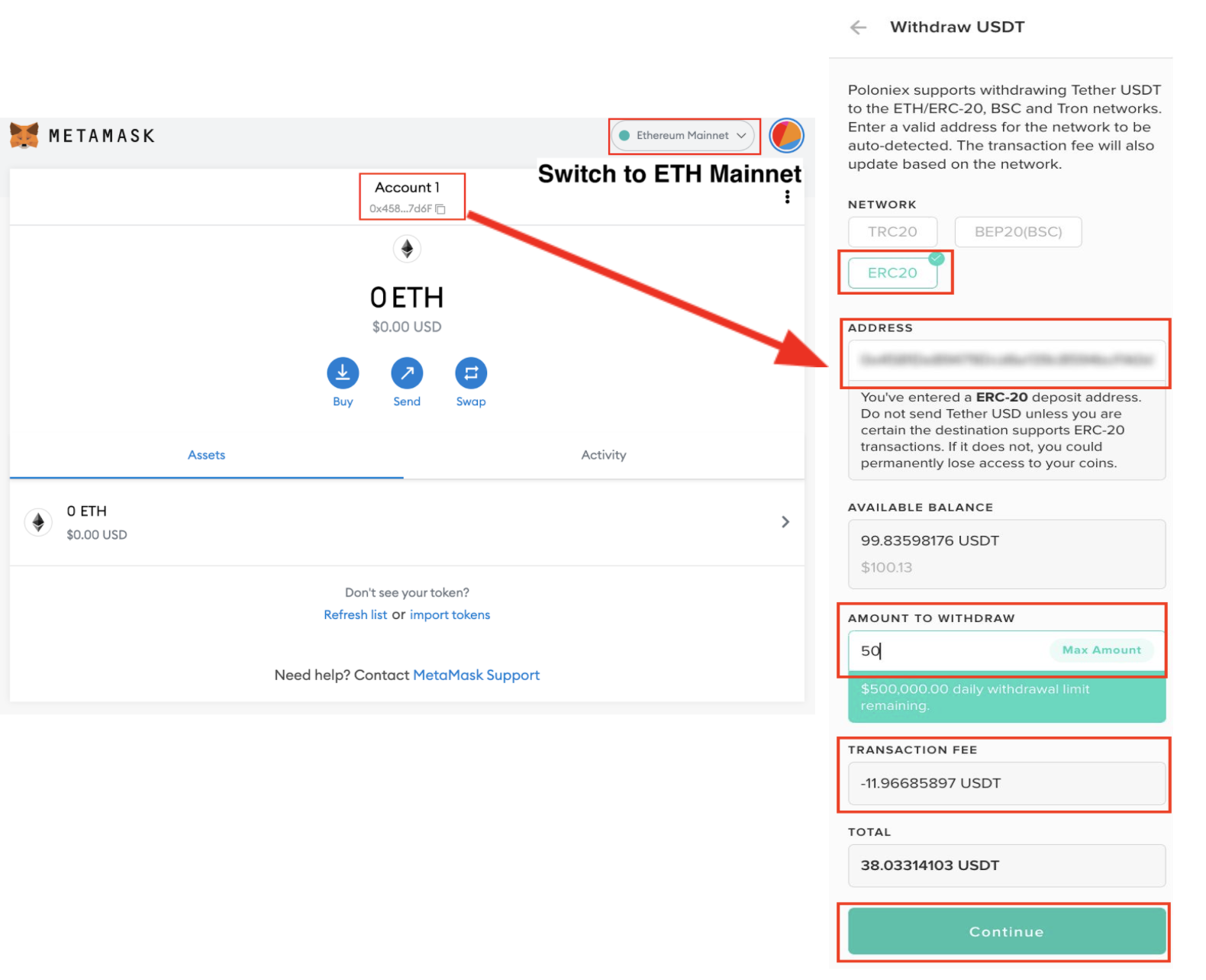 *Please note that due to the nature of ERC-20 blockchain, transaction fee on Poloniex is dynamic.
In the event of network congestion resulting in high gas fee, the transaction fee will be adjusted higher to avoid disruption on the withdrawal process and vice versa.
Lastly, click on "Continue" to proceed with the withdrawal process and confirm your withdrawal via email.
After withdrawal has been completed, you can search for it in your withdrawal history. Please follow this guide on how to view your withdrawal history transaction details.
Withdrawal tokens not appearing in MetaMask Wallet
In order to view the tokens on your wallet interface, you will need to "Import Tokens" in MetaMask. This guide will provide step-by-step instructions on how to add custom tokens in MetaMask.
The most common reason for a token not appearing can be due to the wrong destination address used or wrong withdrawal network chosen.
If it is not the case, this could be a delayed or missing withdrawal. Please reach out to Poloniex support for further assistance.
Please be aware that Poloniex cannot reverse a completed transaction, nor can we refund a completed transaction to your account as the withdrawal has been completed based on the information you provided.