To celebrate the listing of USDD and give back to all Poloniex and USDD supporters, we are launching an exclusive campaign in the following week, where Poloniex users can grab a share of 12,000 USDD when their net purchase is over 1,000 USDT. Besides, we'll soon launch a staking campaign, offering a 30% APY to USDD holders. Stay tuned and be sure to join us!
Campaign Period: 7 days, May 5, 2022 at 12:00 - May 12, 2022 at 11:59 (UTC)
Rewards:
During the campaign, users whose net purchase volume (buys - sells) of USDD reaches 1,000 USDT will be eligible to share 12,000 USDD based on their rankings by net purchase volume. Details are as follows: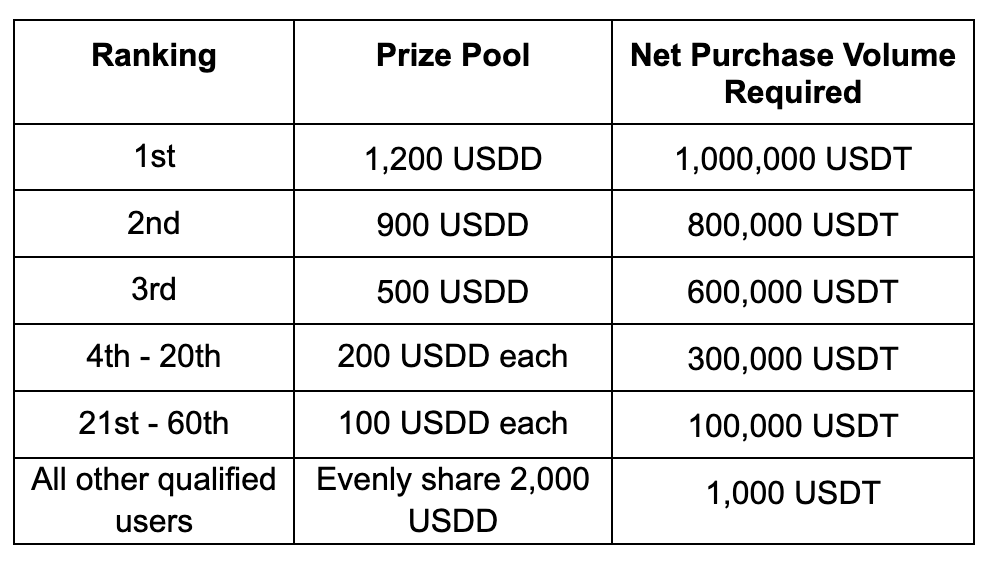 Rules and Terms:
Campaign Period:

7 days, May 5, 2022 at 12:00 - May 12, 2022 at 11:59 (UTC)

The eligible trading pair of this campaign is USDD/USDT

.

We calculate the valid cumulative trading volume of USDD in the following way: Net purchase volume = Sum (executed buys of specified trading pair) - Sum (executed sells of specified trading pair).

Deposits and withdrawals will not be factored into net purchase volume.

Net purchase volume is calculated in USDT.

Market makers, Poloniex Plus Silver or higher-level members are not eligible for this campaign.

Reward distribution: All rewards will be distributed in ten business days after the campaign ends. You can login to your account and check the rewards in Activity-Wallet.

If we determine that a user is using multiple accounts in an attempt to win prizes repeatedly, we will disqualify that user from this campaign.

We are unable to distribute rewards or airdrops to customer accounts that are frozen, closed, or based in a prohibited country. Prohibited locations include: American Samoa, Cuba, Guam, Iran (the Islamic Republic of), Democratic People's Republic of Korea,

the Chinese Mainland,

Northern Mariana Islands, Puerto Rico, Seychelles, Syrian Arab Republic, United States minor outlying islands, the United States, and Virgin Islands (U.S.).

The rules of the promotion shall be subject to Poloniex's interpretations and decisions, which shall be final. We reserve the right to disqualify any person who is known or suspected to be cheating or violating any rules and regulations set by Poloniex.
May 5, 2022