To celebrate the integration of APENFT Marketplace with Poloniex and give back to all users,Poloniex is joining hands with APENFT Marketplace to give away NFTs worth $1.5 million in airdrops.Don't miss out on this grand bonanza! Details are as follows:
Registration: May 25, 2022 at 10:00 - June 30, 2022 at 15:59 (UTC)

Reward 1: Trade to Bring Home Genesis NFTs
Promotion period: January 1, 2022 - June 30, 2022 at 15:59 (UTC)
From January 1 to June 30, 2022, users with a cumulative trading volume (spot, futures, and margin) that reaches the specified threshold can claim a limited-edition Genesis NFT (with APENFT and Poloniex VIP benefits) of the corresponding level. Only a limited number of Genesis NFTs are provided. First come, first served!

Details are as follows:

Reward 2:Trade to Win TRON Ecosystem Badges
Date & Time: May 25, 2022 at 10:00 - June 30, 2022 at 15:59 (UTC)
During the promotion, users whose cumulative trading volume (spot and futures) reaches 300,000 USDT can win a NFT. A total of 500 NFTs are offered on a first-come-first-serve basis.
What are Genesis NFTs?
Genesis NFTs, a limited-edition NFT collection minted specifically for APENFT Marketplace, are issued in a total of 10,000 pieces and divided into four levels: regular, rare, epic, and legendary. The higher the level, the more benefits you enjoy.
A Genesis NFT is a ticket to the APENFT VIP Club. VIP Club membership grants users whitelist access to many projects in the TRON ecosystem, as well as various other exclusive benefits (see the form below).
Genesis NFT benefits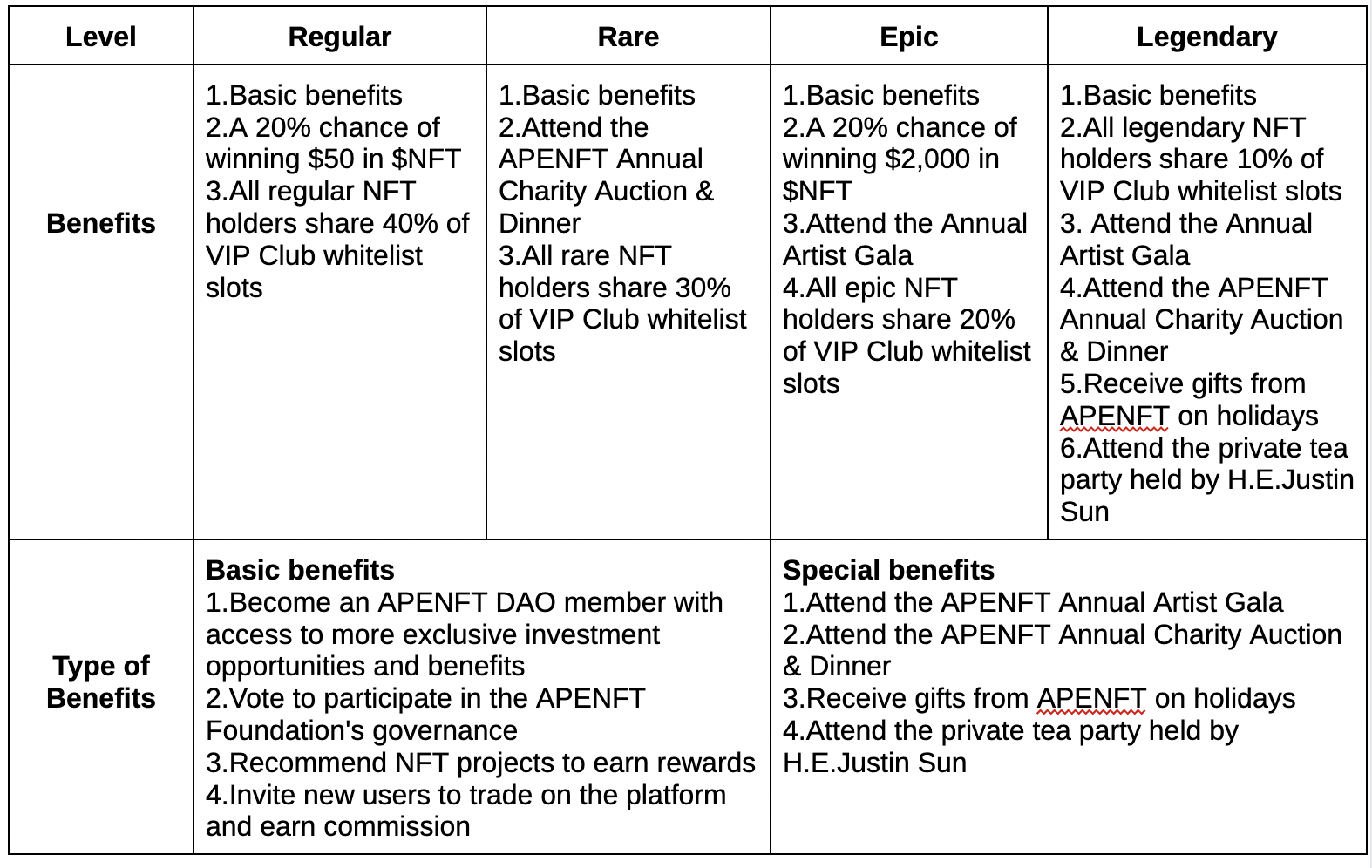 Genesis NFT holders will also be eligible for Poloniex VIP benefits. Please stay tuned!
Stay tuned to our announcements on Telegram or Twitter for the latest updates about this promotion!

Note:If you cannot access APENFT via our mobile app, please update the app to the latest version or click here to visit APENFT's website.
Terms and Rules:
Each user may claim one NFT only

Reward distribution: If you have registered for the promotion and met the trading volume required, all rewards will be distributed to your TronLink wallet in ten working days after the promotion ends.

If you did not register for the promotion but have met the trading volume required, please claim the rewards manually on your own. (The instructions will be sent to you by email after the promotion ends)

This promotion is not open to market makers.

Users in the following countries/regions will not be eligible for this campaign: Antigua and Barbuda, Algeria, Bangladesh, Bolivia, Burundi, Burma, Cote D'Ivoire (Ivory Coast), Crimea and Sevastopol, Cuba, Democratic Republic of Congo, Ecuador, the Islamic Republic of Iran, Iraq, Libya, Mali, Morocco, Magnitsky, Liberia, the Chinese Mainland, the Democratic People's Republic of Korea, Nepal, Seychelles, Somalia, Sudan, Syria, Venezuela, Zimbabwe, American Samoa, Guam, the Northern Mariana Islands, Puerto Rico, Seychelles, the Syrian Arab Republic, the United States, and the United States Virgin Islands.

The rules of the promotion shall be subject to Poloniex's interpretations and decisions, which shall be final. We reserve the right to disqualify any person known or suspected of cheating or violating any rules and regulations set by Poloniex.
FAQ:
Q: Can I claim a Regular NFT, a Rare NFT, an Epic NFT, and a TRON Ecosystem Badge NFT when my trading volume reaches 500 million USDT during the promotion?
A: No, you can't. Each user may claim one NFT only.
Q: Will you distribute the NFTs to my Poloniex account?
A: The NFTs will be distributed to the TronLink wallet with which you registered for the promotion. To ensure you receive the rewards, please create a TronLink account in advance.
Q: Can I get a badge if I've met the trading volume requirement but didn't sign up very early?
A: The prizes are given out to users based on the time they meet the trading volume requirement. As long as you sign up during the registration period, you will have a chance of winning an NFT badge.

Q: What is the value of these NFTs?
A: Apart from the intrinsic value of the NFTs,their holders will enjoy additional benefits on Poloniex,such as trading fee discounts (details to be announced).


May 25, 2022