Poloniex users can trade USDT collateralized perpetual contracts on mobile Apps easily. If you have not downloaded the app, please click here to download.
Layout Overview
Once you have logged into your Poloniex account, you will be able to locate the "Futures" icon at the bottom.
On the top area, you could click the contract name to select the one and have a simple overview of your Equity, Position size and the Liquidation price.
On the top right corner, you could click

icon to view the Chart, and click

icon to visit Rewards Center and change Trading Unit. You can choose to either display the trading unit in terms of base currency or contract size - lot. If you choose either one, the order book quantity will change accordingly.
At the bottom, there are unfilled orders, and you could cancel it before it's filled.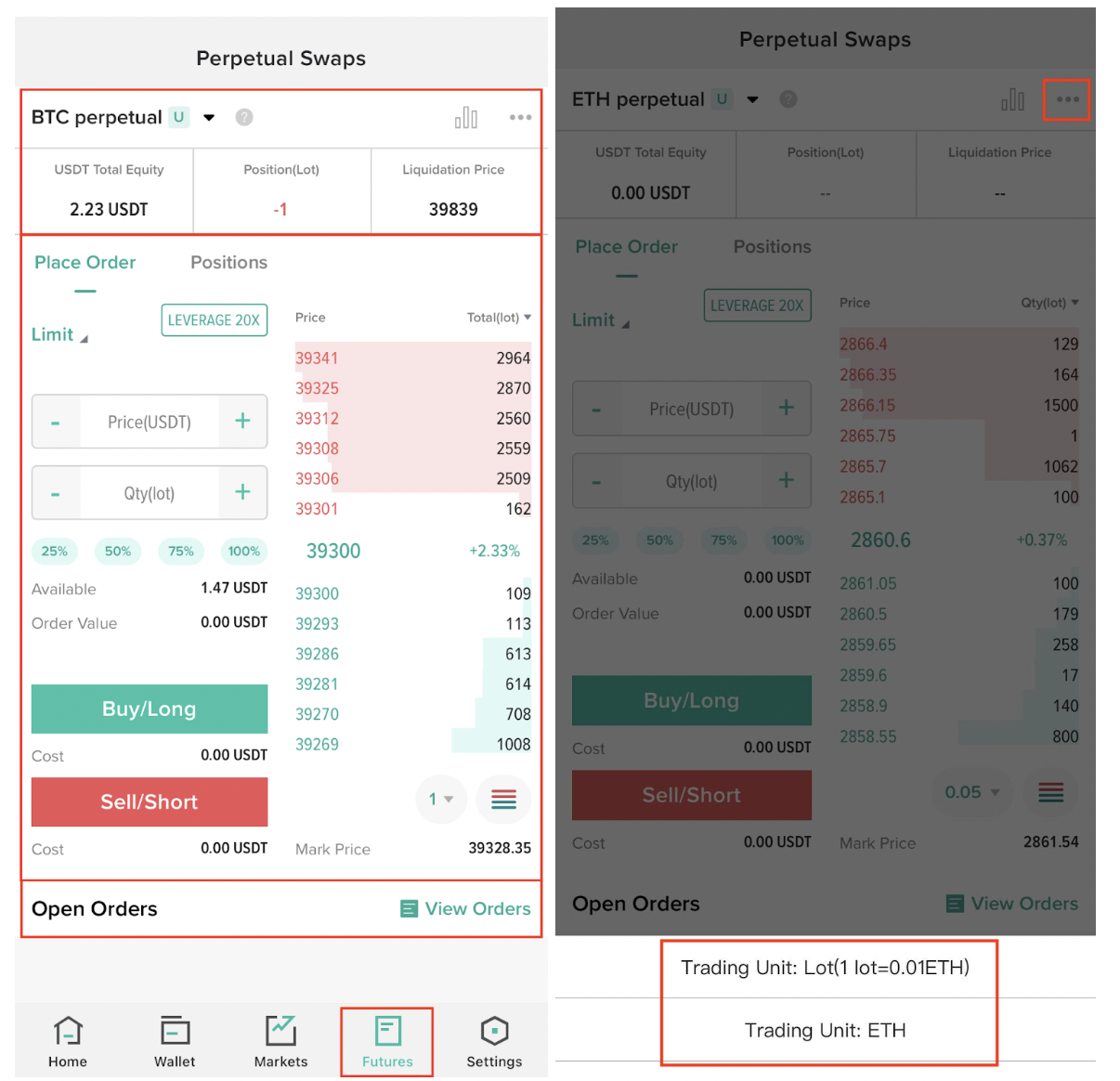 Enable Futures trading
To enable Futures account, you could click "Enable Now" under "Positions" tab, and then click "I Understand The Risks" to acknowledge and start Futures trading.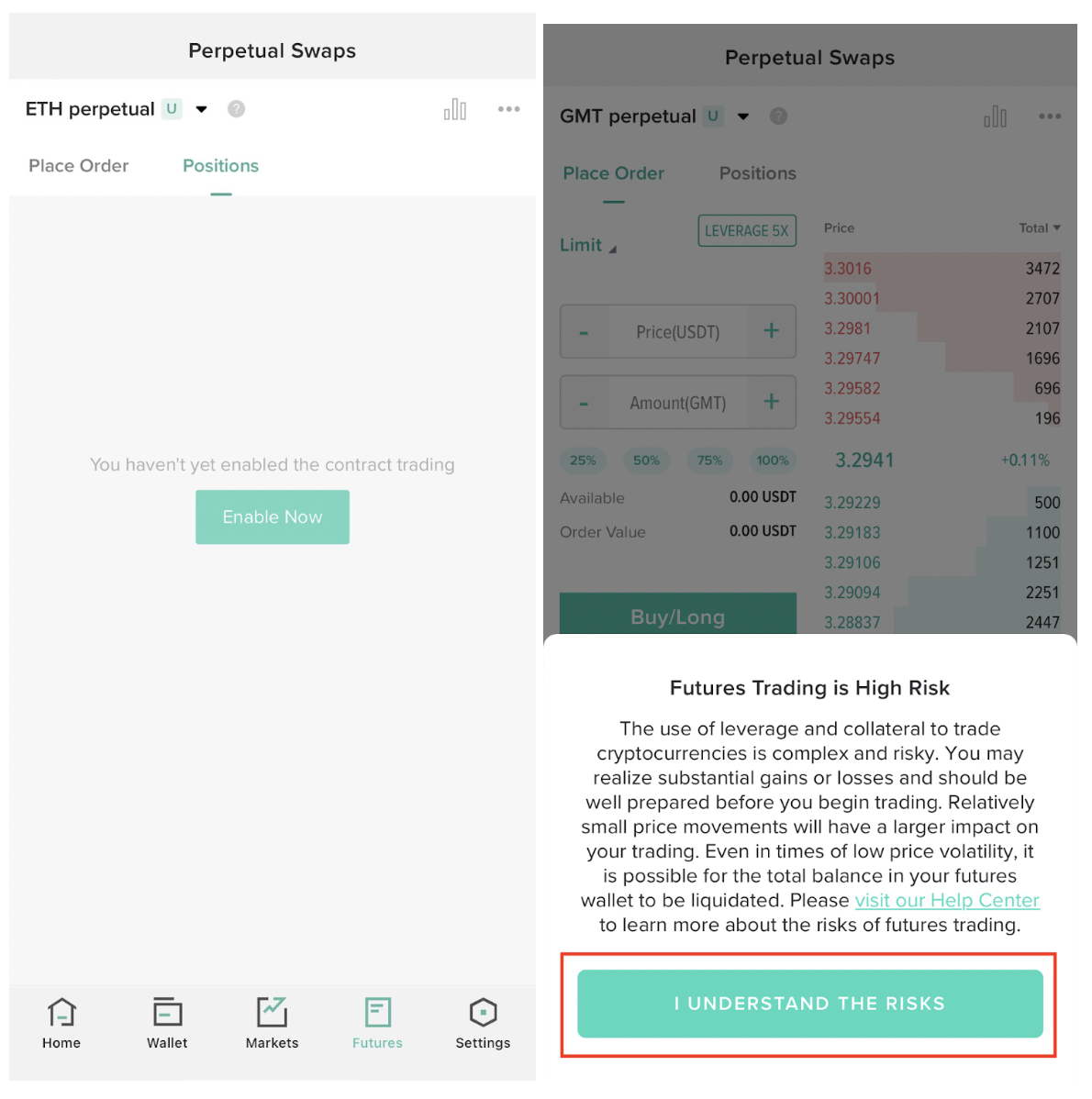 View Futures Balance
To view your account balances, click the "Wallet" icon at the bottom and choose "Futures Account" to view the balance.
Account Total: Account equity, including unrealized P&L
Available Balance: Balance available for trading or transfer
Unrealised P&L: Total unrealised P&L of current positions
Position Margin: Total margin of current positions
Order Margin: Total margin of current orders
Frozen Funds: Stuck funds when transfer failed
You will need to have funds in your Future Account before you can start trading. Click "Transfer" to transfer funds from Exchange Account to Futures account.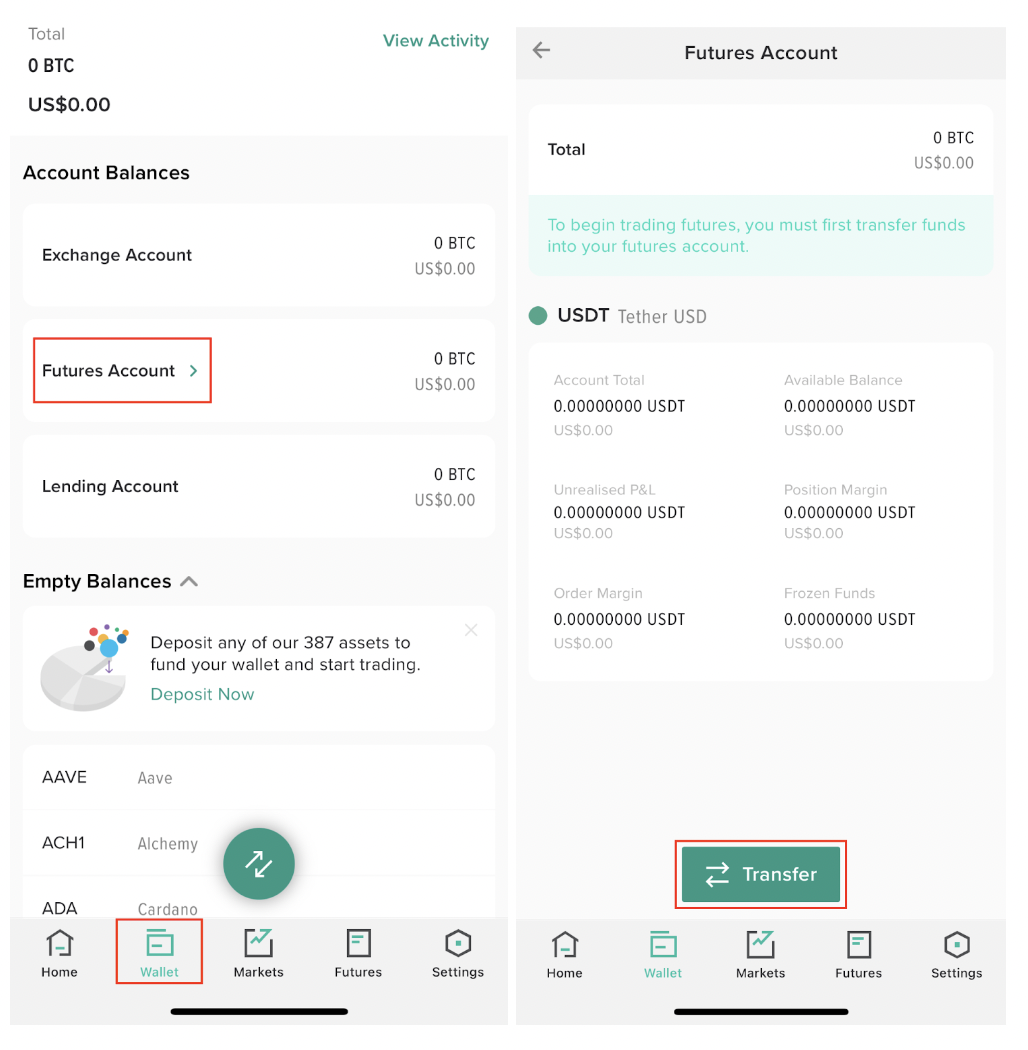 Place Order
Poloniex supports isolated margin mode for all USDT-margined perpetual contracts. To place an order, please select the order type, leverage, and enter your order amount.
Leverage: Poloniex offers up to 100x leverage. The higher the leverage, the greater the potential gains and vice versa. And you could check the Cost after you decide the leverage and order price.
Order Type: There are 3 types of orders available on the app, while Advanced Settings, like Time in Force are not available in app.
a) Limit order - A limit order is used to pre-specify a price to buy or sell.

b) Market order - A market order is a buy or sell order that gets filled immediately at the best recently available price on the market.

c) Stop order - A stop order is a conditional order that is set to place a Limit or Market order when the condition set for the target stop price is being triggered.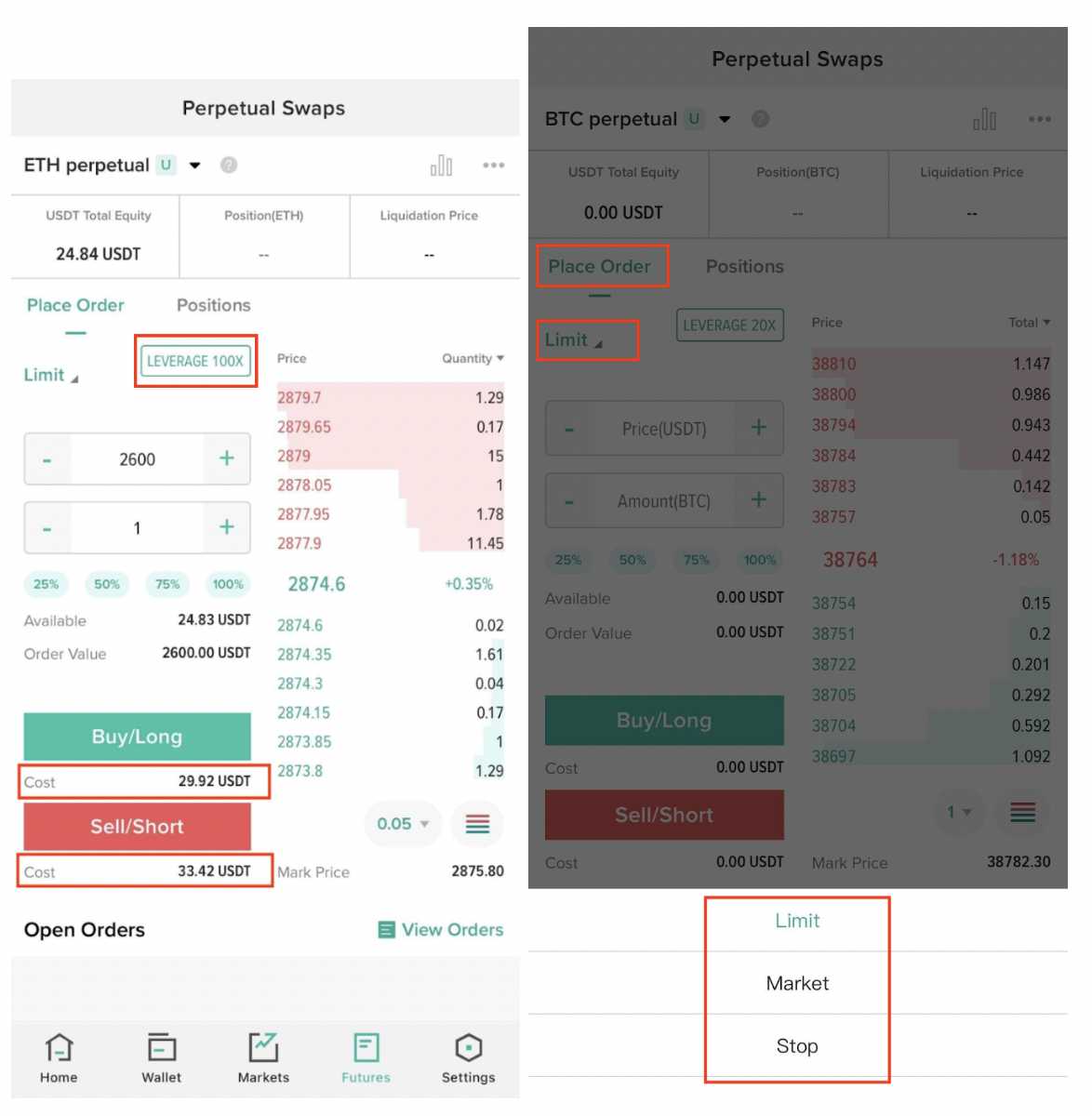 Monitor Position
After the order is filled, you could check the open position under "Positions". Also feel free to share the position with your friends.
Margin: The margin balance for your open position and you could add margin to reduce the risk.
Liquidation Price: When the Mark Price reaches the liquidation price, the position will be liquidated.
Unrealized P&L: The unrealized profit or loss of the current position. Please keep in mind that this is an estimation.
Auto-Deposit Margin: If Auto-Deposit Margin mode is enabled, funds in your futures wallet will be added to your existing positions whenever a liquidation is about to occur, to prevent your position from being liquidated.
Take Profit/Stop Loss: When you set Take Profit or Stop Loss, the order will be executed at Market price when it is triggered, to help mitigate any risk and/or loss.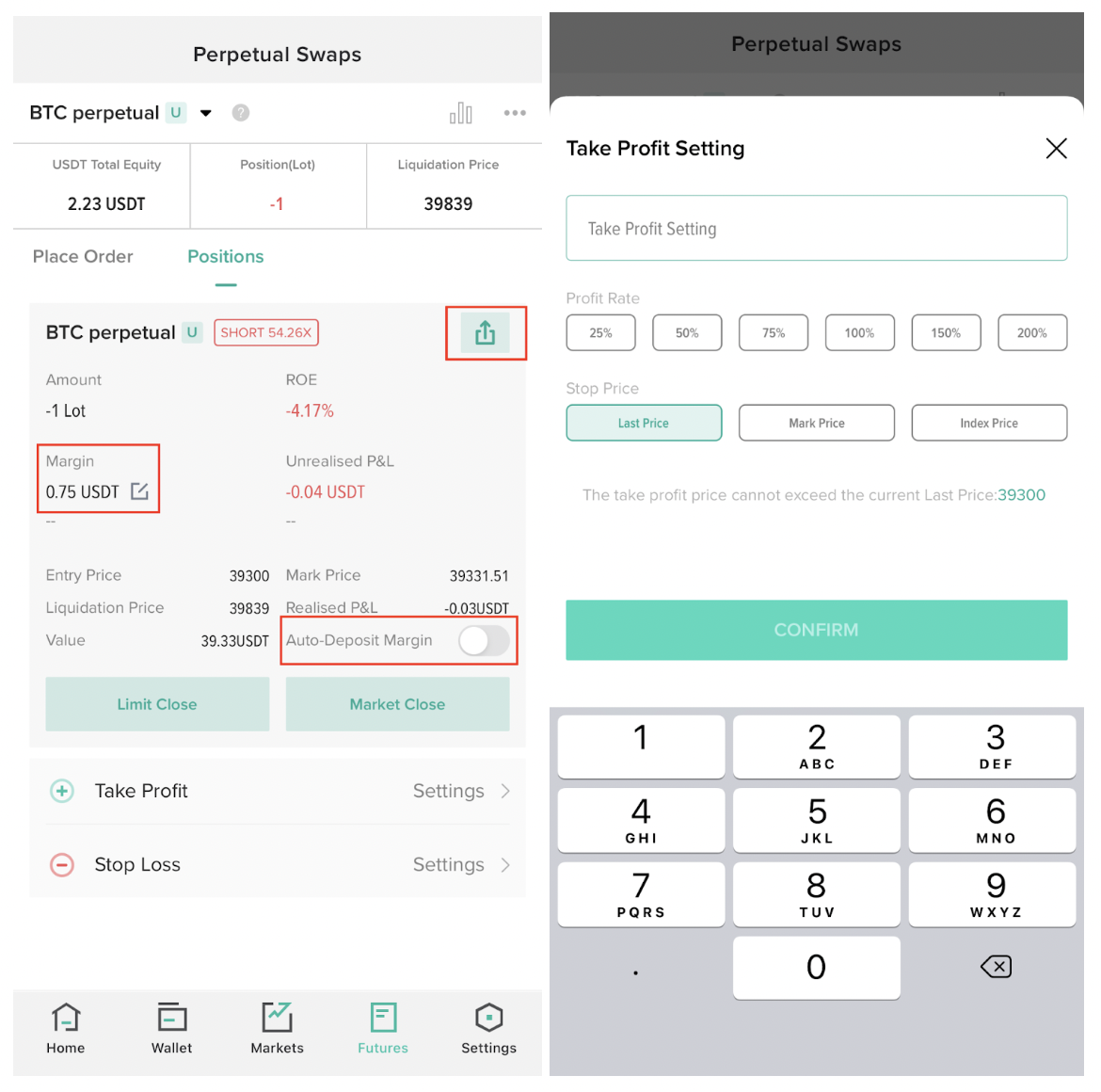 Close Position
To close a position, you can click "Limit Close" or "Market Close" or place counterparty orders to reduce or close positions.