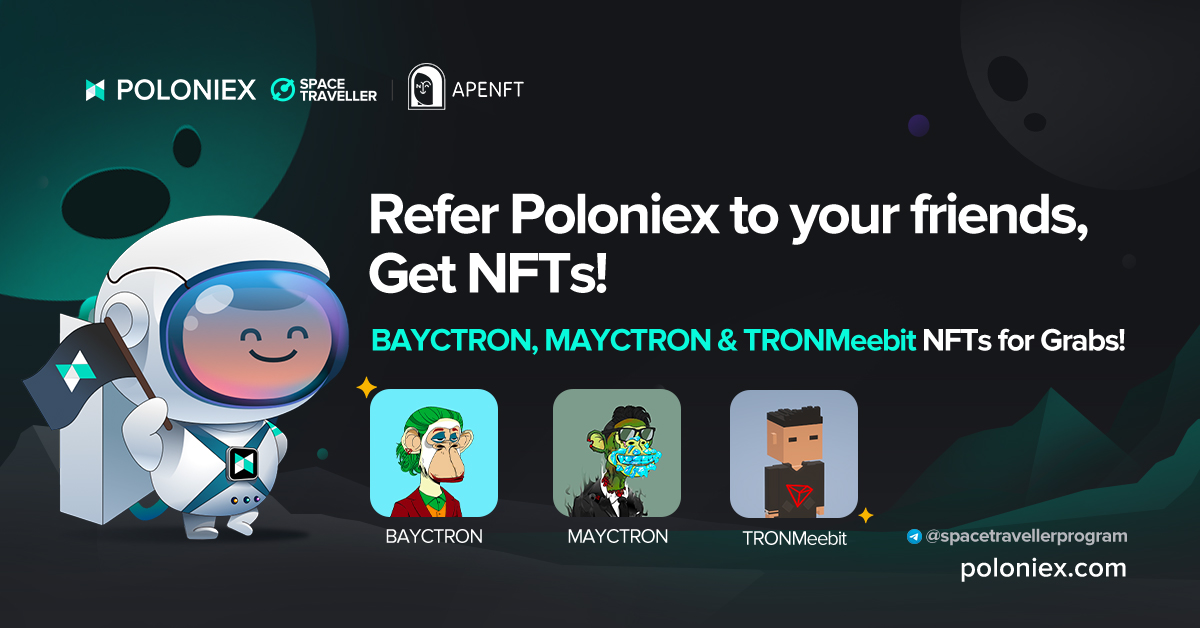 Join Poloniex Space Traveller Program, get up to 60% commission! Besides the commission, refer your friends to trade on Poloniex, get BAYCTRON, MAYCTRON & TRONMeebit NFTs!
Rules:
Share your referral link, get your friends sign up and trade on Poloniex

Make sure the activation rate of your invitees ≥ 20% (Activated user: trade at least $50; Activation rate = Activated Users/Total Referrals)

We will distribute NFTs to Top 20 Space Travellers (Ranked by the number of new invitees)
Rank 1-5: One BAYCTRON for each winner

Rank 6-10: One MAYCTRON for each winner

Rank 11 - 20: One TRONMeebit for each winner
Campaign period: June 13 06:00 - June 30, 2022 06:00 UTC
Participants with more than 20 referrals during the campaign period are eligible for the ranking
What is Space Traveller Program?
It's Poloniex's Referral Program. When you sign up on Poloniex, you will get a unique referral link that you can share with your friends: https://poloniex.com/referral/profile. Anyone who clicks on the link and completes the registration becomes your referral. You will receive commissions on all trades completed by your referrals. What's more, this includes Spot, Margin and Futures trades.
How much commission can I get?
Currently we have four tiers. Fill out this form, refer more, and get higher commission rates!
Rocket Scientist (Commission rate: 20%): Monthly referrals <5

Moon Explorer (Commission rate: 30%): Monthly referrals <20 and activation rate ≥20%

Mars Adventurer (Commission rate: 50%): Referral number <50 and and activation rate ≥20%

Sun Captain (Commission rate: 60%): Referral number ≥50 and activation rate ≥20%
*Activation Rate=Activated Users/ Total Referrals
*Only accounts that have completed trades of at least $50 will be considered as activated accounts.
*As a Sun Captain, you get 50% from your direct referrals and 10% from your secondary referrals.
*For Sun Captains, the secondary commission rebate (10%) of futures trading will be distributed before the 10th of the following month
Click here to learn more.
How can I get started?
Sign up Poloniex:

https://poloniex.com/signup/

Fill out the Space Traveller Application form:

https://docs.google.com/forms/d/1IQWcjY7t8ituhAwzIpt7jHfoJ4-BxWGmXcCPhsCeCoU

Tell us your wallet address for NFT distributing:

https://forms.gle/26FetxXh9mqM96Wg6

Sign in Poloniex on website and get your referral link:

https://poloniex.com/referral/profile

Share and earn!
Poloniex Team