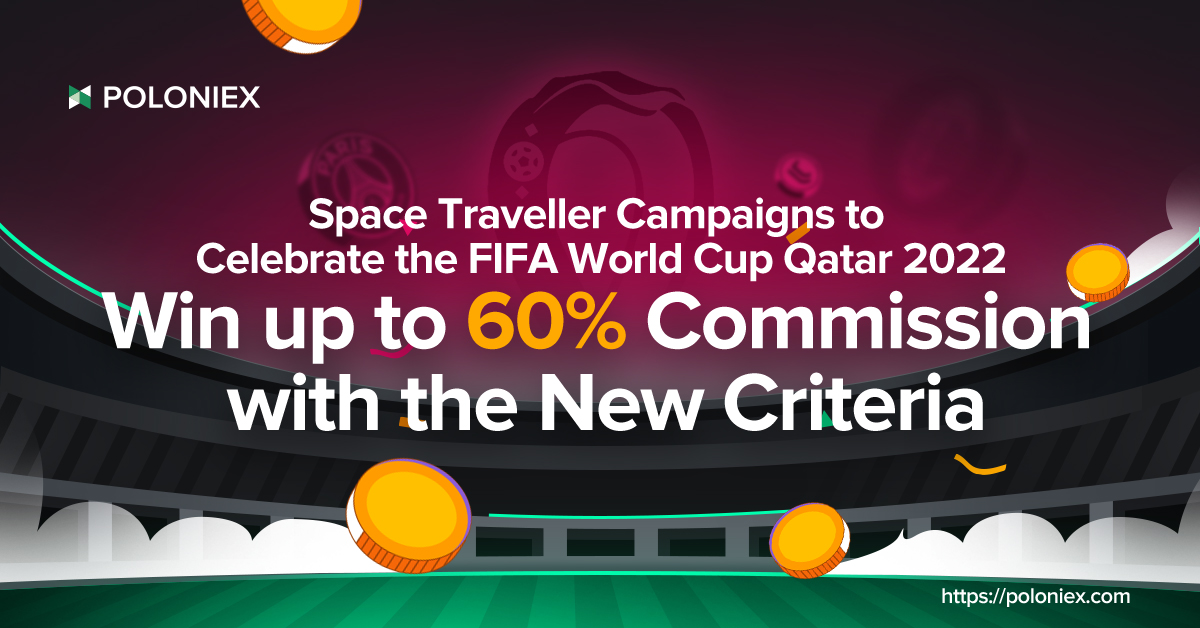 Dear Poloniex Space Travellers,
The 2022 FIFA World Cup will soon kick off in Qatar. To celebrate this grand event and give back to our users, Poloniex is launching Space Traveller campaigns with juicy rewards.
Campaign 1: Win up to 60% Commission with the New Criteria
Campaign period: October - December 2022
During the campaign, the newly added criteria B will be effective alongside the existing criteria for the Poloniex Space Traveller tier adjusting mechanism. You will level up by meeting either one of them. If you meet both criteria and are eligible for two tiers simultaneously, you will move up to whichever is higher next month.
The existing criteria assess the number of referrals and the activation rate in a month:

The newly added criteria B assess the trading volume from all your referrals in a month:

Examples:
Suppose you invited 20 new users this month, and over 20% of them are activated; then you are qualified to be a Mars Adventurer. If, in the meantime, the total trading volume of all your referrals adds up to 100,000 USDT, then you are qualified to be Sun Captain. In this case, you will be promoted to Sun Captain next month as it is the higher level.
Suppose you didn't bring any new users to Poloniex this month, but the total trading volume of your previous referrals adds up to 100,000 USDT, then you can still be promoted to "Sun Captain" and enjoy a commission as high as 60% next month.
If you have further questions, please join the Telegram channel of Poloniex Space Traveller Program.
Campaign 2: Join the Exclusive KOL Incentive Program and Win up to 10,000 USDT!
This campaign is open to video creators on YouTube or TikTok with over 30,000 followers, KOLs on Twitter with over 5,000 followers and channel admins on Telegram who manage over 3,000 community members.
Click here to join the exclusive incentive program for Poloniex KOLs! For more details, please read the announcement on our website.
Participants of this campaign will win awards for Honorable KOL and Excellent KOL and a due share from the 10,000 USDT prize pool on a monthly basis if they meet the following criteria regarding the number of new users they invited and the referrals' trading volume. The prize is limited and will be distributed on a first-come-first-serve basis.

Don't miss the chance! Fill in the form and apply to become a Poloniex Space Traveller.
Poloniex Team
October 31, 2022